After a few years of collecting and restoring EM frames, we've gathered some knowledge on frame dating.
However, much of the forensic work you'll find here comes from a single source – CyclesMakaron. His efforts in this area are heroic! You can find him and his many posts on Bike Forums here.
As of late 2019, this is what we know:
From 1980 to about 2000, Steel Merckx frame production used a (reasonably) consistent numbering system.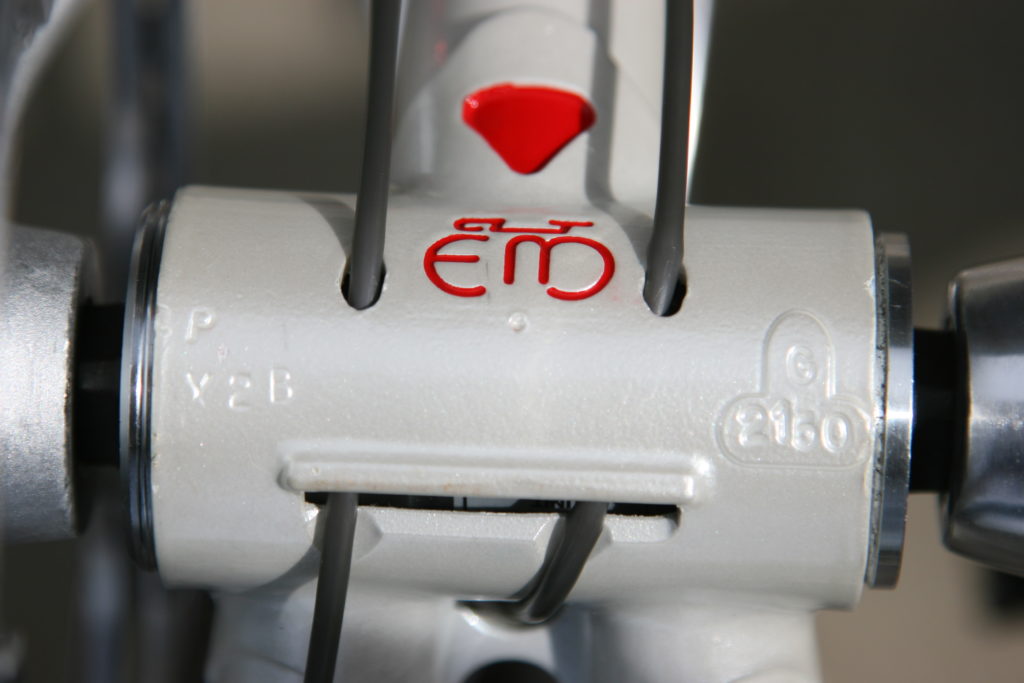 The left side of the BB carried information about the frame, and the right side stampings are a production code accompanied by a 4-digit serial number.
On the left side, the stampings can carry up to five bits of information:
A type designation of tubeset, for example: 'X' – SLX / SPX, 'R' – Reynolds 531 , 'CX' – Criterium, 'TT' – TSX;
The size of the frame, expressed as a single digit indicating seat-tube centre-to-center measurement in cm;
The EM bicycle model, for example: 'C' – Corsa,
An individual designation of the EM factory employee responsible for the final preparation of the frame and quality control before painting. For example: A, B, F, G are the earliest known team;
An optional as-yet-unproven additional code letter.
On the right side, the stampings carry two bits of information:
The production series code letter
The serial of the frame inside that production series
The example seen above – PX2B-2150G – translates as:
P – Employee code. P worked in production at the factory from 81-86 and 92-98.
X – For SLX tubing, normally indicating a Corsa Extra
2 – 62cm (could also indicate 52cm, but that will very obvious to the eye)
B – unknown code letter (bummer!)
2160 – built early in the production of 9999 frames with 'G' code
G – Production series 1995-1998
SO this frame is probably a 1996 Corsa Extra, 62cm.
This is what we currently know about the production series:

| | | |
| --- | --- | --- |
| numbers only | 1980 | 999 frames – may have included prototypes |
| E | 81-84 | 9999 frames |
| Z | 84-86 | 9999 frames |
| A | 86-88 | 9999 frames |
| B | 88-90 | 9999 frames |
| C | 90-91 | 9999 frames |
| D | 92-93 | 9999 frames |
| F | 93-95 | 9999 frames, not all were painted and sold |
| G | 95-98 | 9999 frames, not all were painted and sold |
| H | 98-01 | 9999 frames, not all were painted and sold |
We know that there are team markings: KE – Kelme, CS – Capri Sonne, ED – Europ Decor, W – Winning; these were used in seasons 1982-1983 without serial numbers. Every team had a separate frame numbering from 1984, where team designations appeared next to serial numbers i.e. Kelme 'KE' and Panasonic 'P' – at least until the 1986 season.
This is the known Employee codes:
A – prototypes — ~ B3000
B – 1 ser ~900 — ~ E6500 + ~ B2500 — ?
D – ~ A4000 — ~ F6000
F – ~ E0200 — ~ E7500 + ~ A9000 — ~ B5000
G – prototypes — ~ E6100
H – ~ B1300 — ~ G5500
J – ~ A7500 — ~ A9000
K – ~ F 1300
L – ~ Z 5000 — ~ D 9999
M – ~ E4700 — ~ A1100
N – ~ C3300 — ~ C8100
P – ~ E7700 — ~ A0600 + ~ D5800 — ~ G5200
S – ~ A8000 — ~ H
T – ~ A0600 — ~ A6700
Y – ~ A1500 — ~ A6700
Of course, there's a disclaimer at the bottom of this page. We've seen a lot of weird frames that seem legitimate, yet are stamped confusingly or in contradiction of these rules.
What we know as an absolute 100% certainty is that the EM factory could produce frames that did not follow these rules. There was also a lot of frames repainted by the factory with new colours or team liveries, plus customers could have elements such as number hangers added or removed, or internal brake cable routing added.
Here's a great example: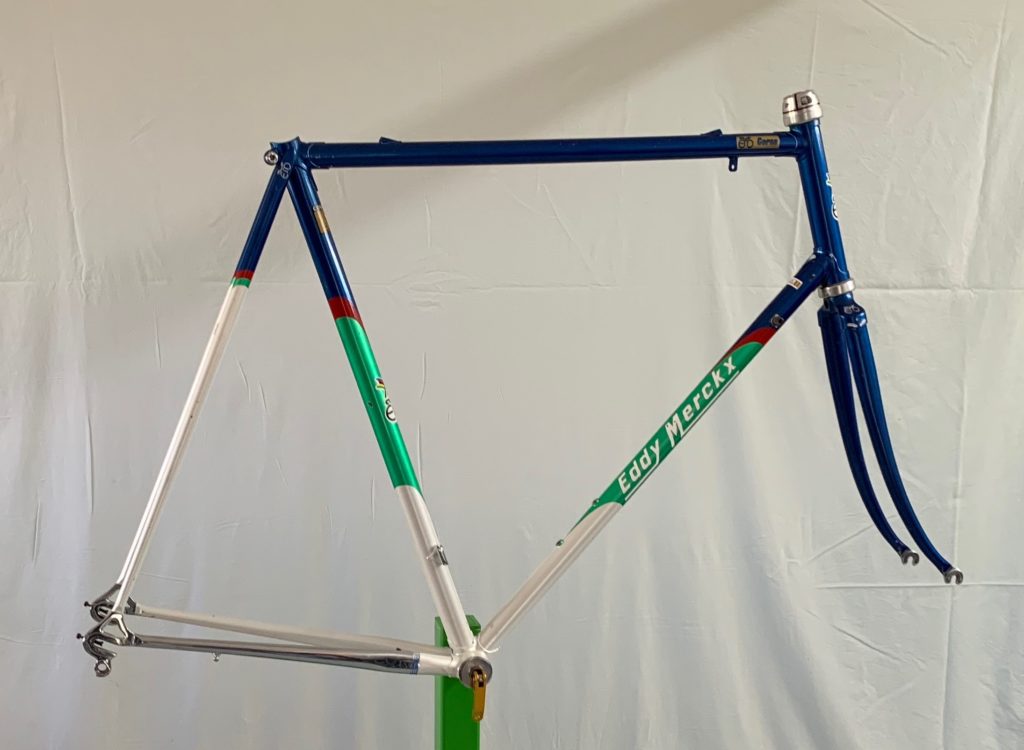 D1C-7913A
Late-'87 61cm Corsa, painted in Team ADR. Timing is OK for the livery, but a number hanger on a Corsa? Not common, but still possible…but the Columbus EL decal is a definite furphy – the frameset weighs 3.1kg, so it's definitely not the superbly lightweight 'Extra Leggeri' tubeset!
My call on this frame is that it was either a total custom frame built to a customer's specs; one could order these upgrades in a custom frame. Or it's a production frame sent back to the factory for pimping with toptube brake cable routing and a number hanger, then a repaint in the cool team colours. It may only have been touched up if it was originally ADR colours.
I suspect the cashed-up owner used the frame in clubman competition, because the number hanger has been used…but I doubt this one would have seen any action in professional events. And at some point, someone put an EL decal on it, either by mistake, or fraudulently to improve its value. It's definitely an SP tubeset.
–
You can see that with current knowledge, we can solve most of the frame dating questions on EM frames. It's not a perfect science though! The forensics done 30 years after production are reasonably accurate, but please please please don't take what I've written here as gospel. The search for knowledge continues, and we're updating this page and others as the database grows.
You're welcome to email me for more information, but my advice is to post your enquiry on CyclesMakaron's Bike Forums frame dating thread here and the expert will answer 🙂