Like most of the 'tools' on this site, this page is designed to be a quick reference, covering the popular colours of steel and Ti EM frames only. It's not a definitive information source and it never will be – there's a link at the bottom of the page where you can find the rich and detailed 'Big Source'.
Please don't use this page as a reference tool for decal accuracy!
– – –
From the inception of the Merckx factory, Eddy's frames became the choice of pro teams worldwide. The factory created unique designs for each team, and for those of us fortunate enough to order a new bike from the factory, choosing a Team colour became a signature of the EM buying experience.
Many Team liveries became part of the regular colour options, and they remain the most collectible versions of the EM bikes.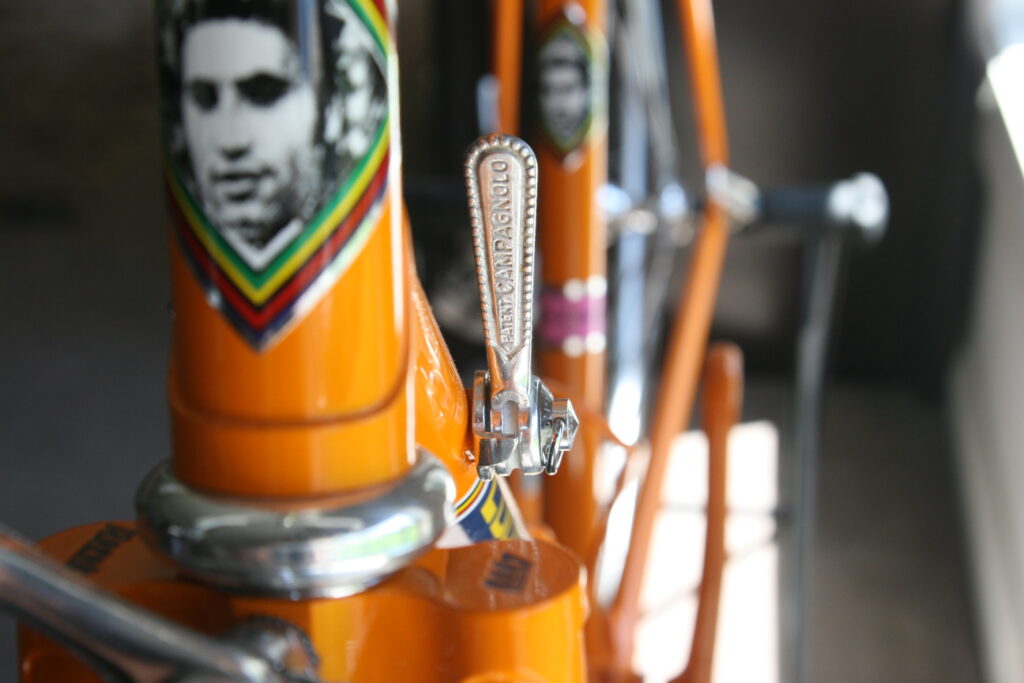 Molteni
Eddy rode for plenty of teams, but he's most remembered for his time at Molteni riding bikes that carried his name.
This distinctive orange paint with a white panel on the downtube and Eddy's face on the head tube and seat tube has been a staple of the EM brand since the beginning.
Collectors say that if you don't own a Molteni, your collection isn't complete.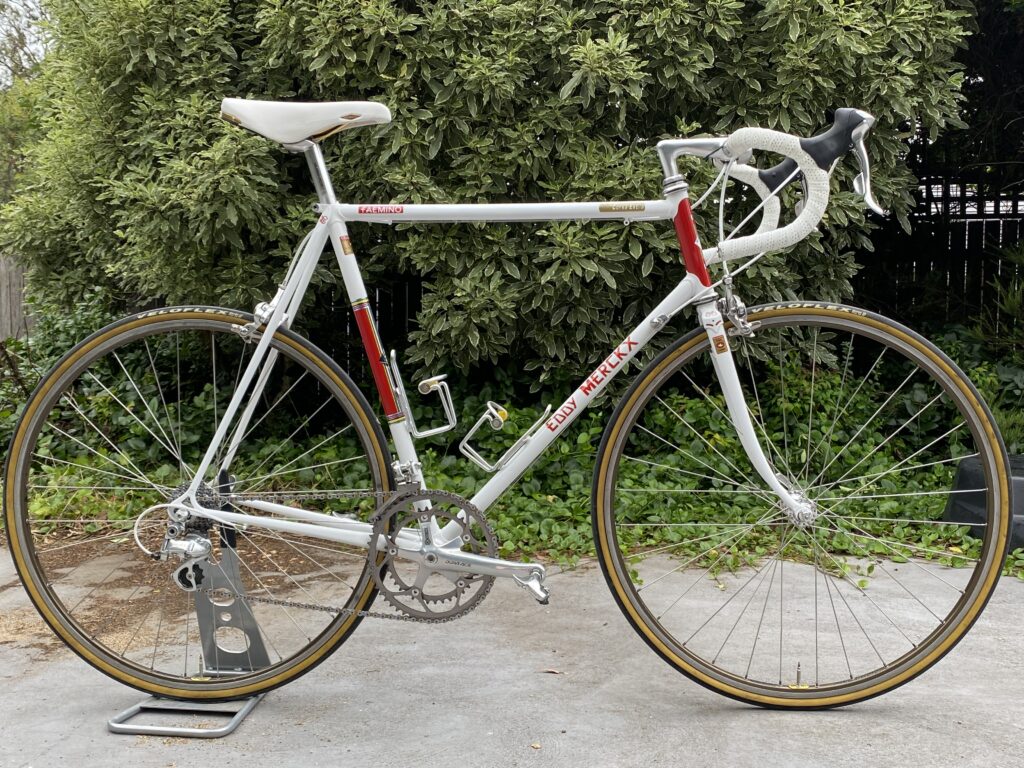 Faema
Eddy won plenty while riding for the Faema team, including his first Paris-Roubaix and Giro d'Italia. In '69, Merckx won all the jerseys in the TdF, with the Faema taking out the team title as well. The '69 livery pictured here is the most famous of the Faema variations.
Like the Molteni livery, the Faema white and red appreared regularly in the EM catalog and could be special ordered on a new bike or factory repaint.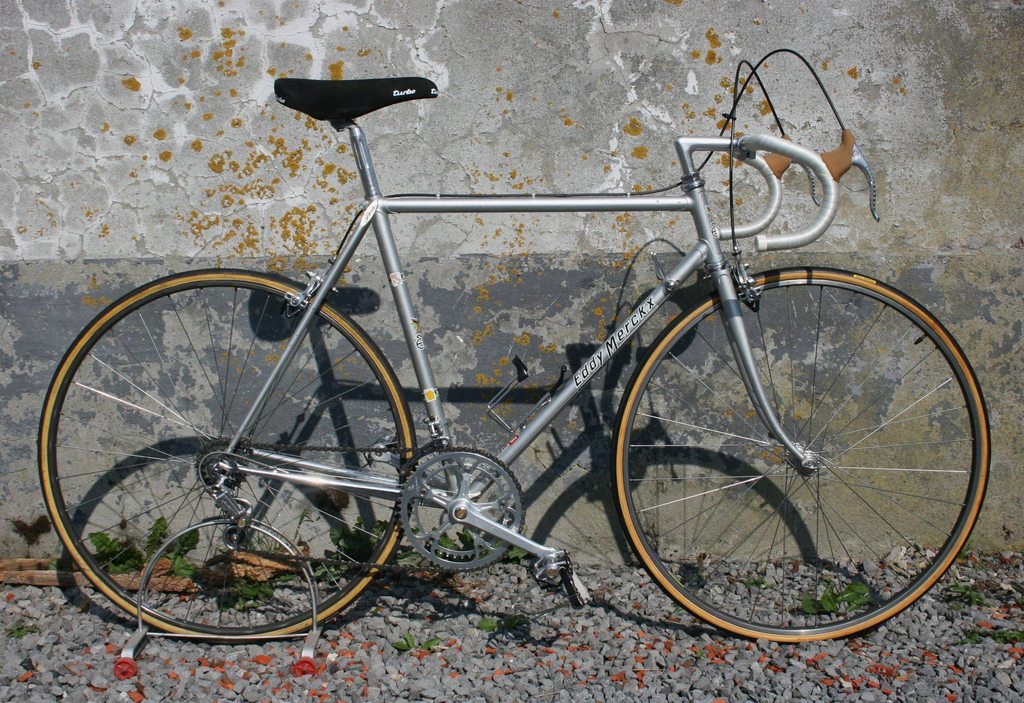 Capri Sonne
In 1981, Team Capri Sonne rode EM frames to moderate success.
Patrick Lefevere, the Sporting Director of the team, would go on to run many teams that rode EM bikes, such as Lotto, Domex-Weinmann and Domo Farm Frites.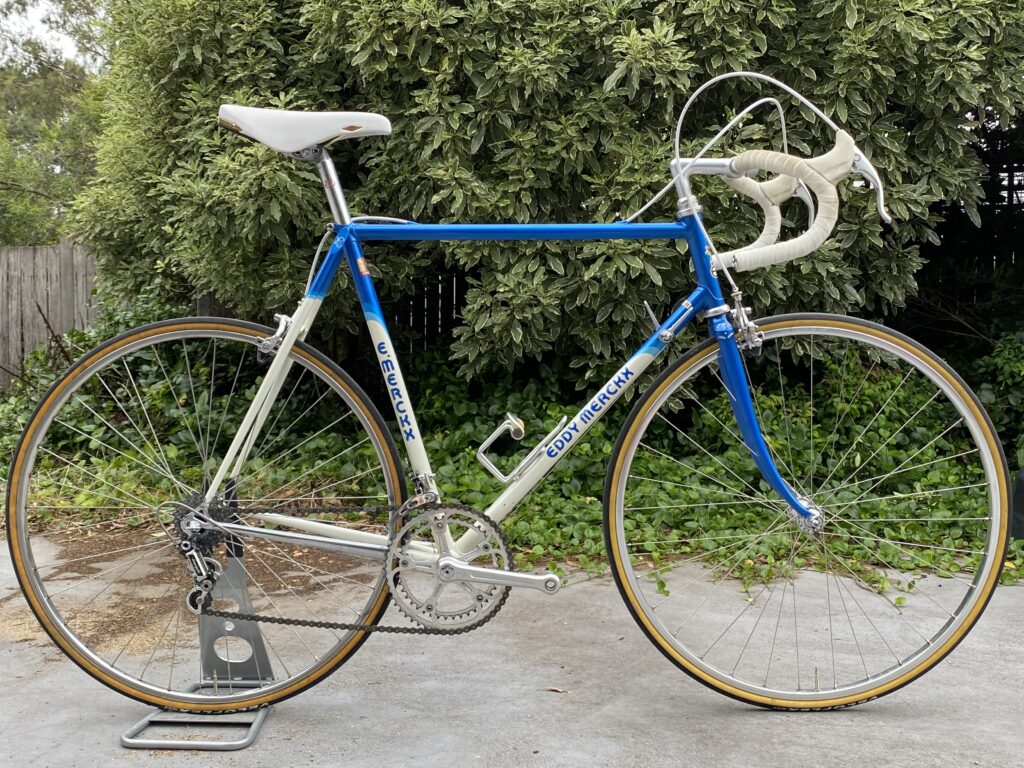 Panasonic
In 1984 the Ti-Raleigh team became Team Panasonic.
In '86 and '87 the team rode EM frames with this white and blue design. The timeless colour style keeps it as a popular favourite with Merckx collectors.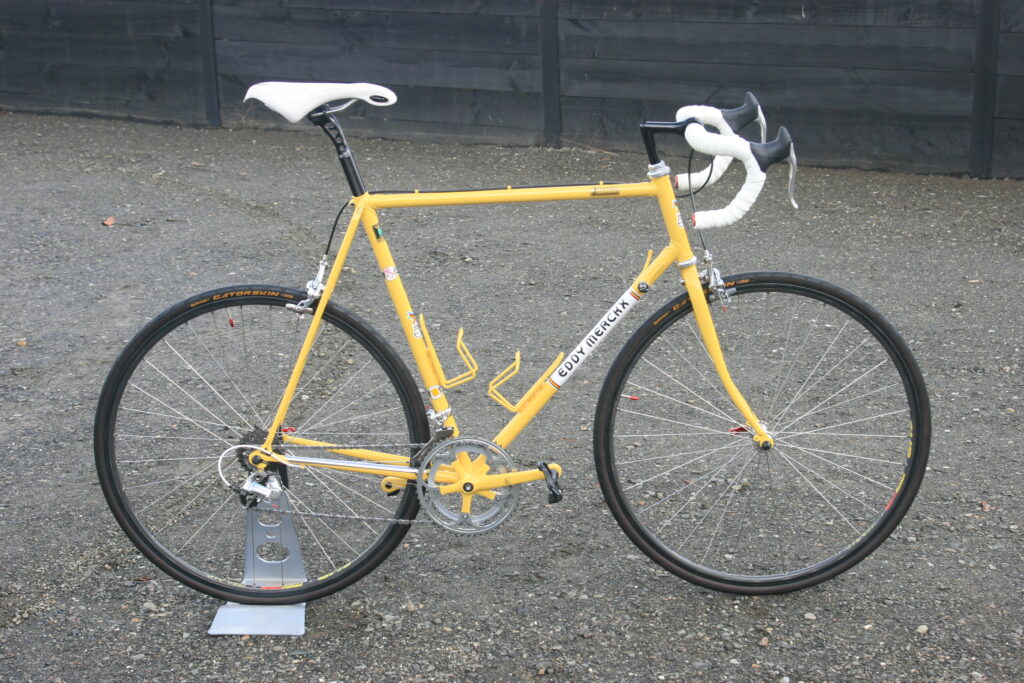 Lotto (early)
There are a stack of Team Lotto liveries. For 1985, Lotto used a yellow frame with white panel on the downtube.
This is probably the most commonly seen now, and a popular restoration choice for yellow EMs.
Check out all the others in Jacek's post here.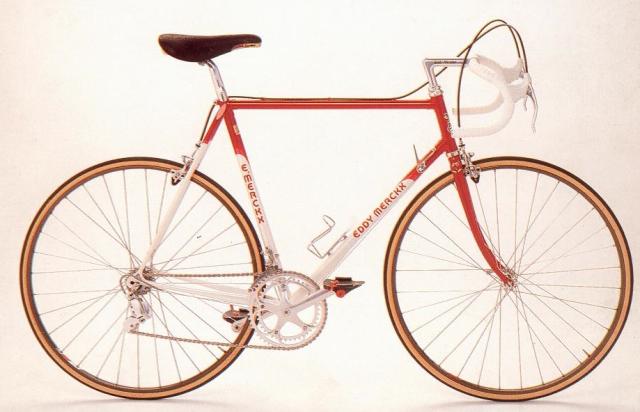 Lotto (late)
In 1988 Lotto used a red and white 'pointed' design.
This colour way is not common now and we've never seen one, but this might be because we thought we were looking at a Kelme or a TeVe Blad…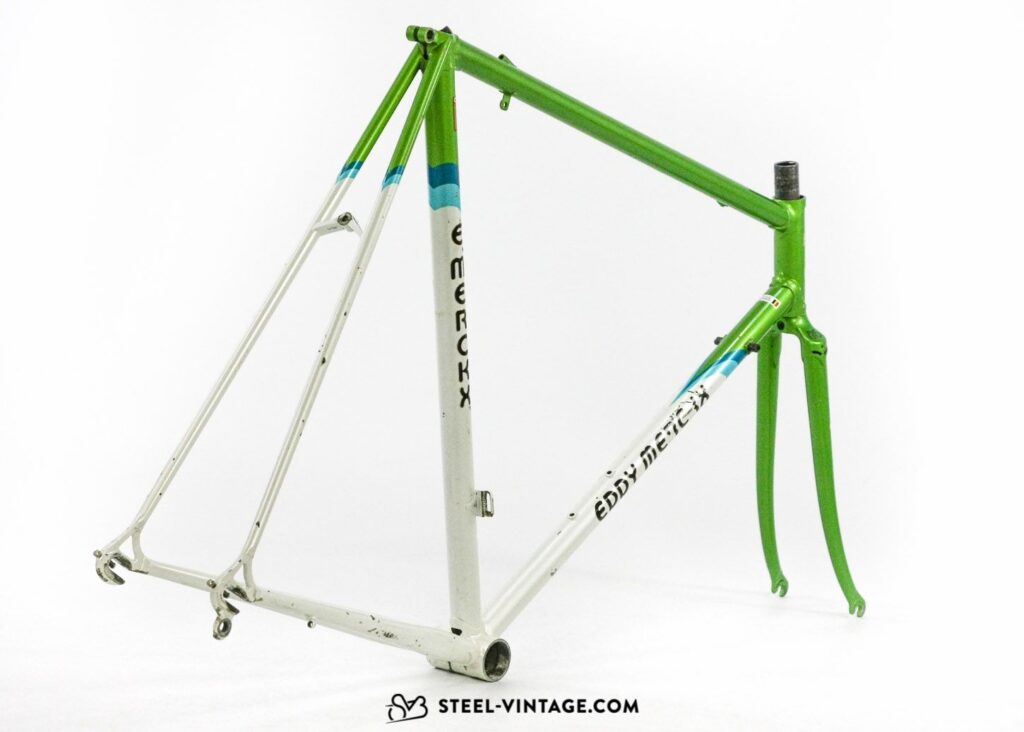 Kelme (mid)…and TeVe Blad
TeVe Blad rode EMs from 1985 to 1987 with three different colourways. The red and white version pictured here is the most common – and it's often confused with Team Lotto, where only the red stripes are different.
Most annoying: TeVe Blad is identical to the Kelme version from the same years, with fuchsia stripes.
Have a look at Jacek's detailed explanation here.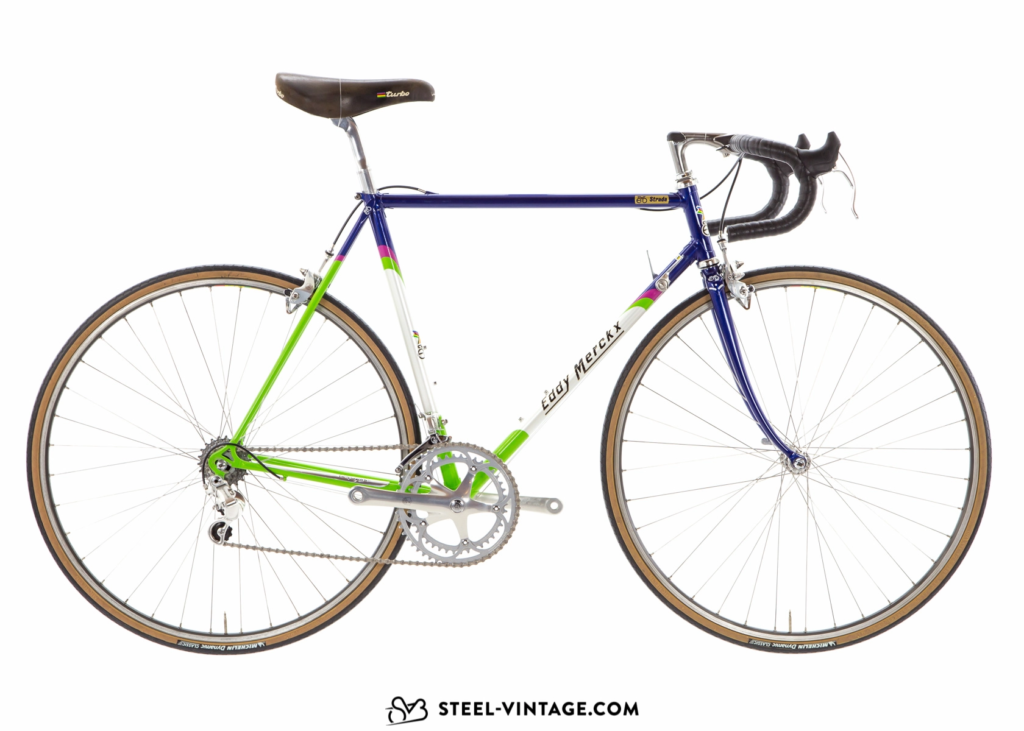 Kelme (late)
This is the most common Kelme paint found in circulation now.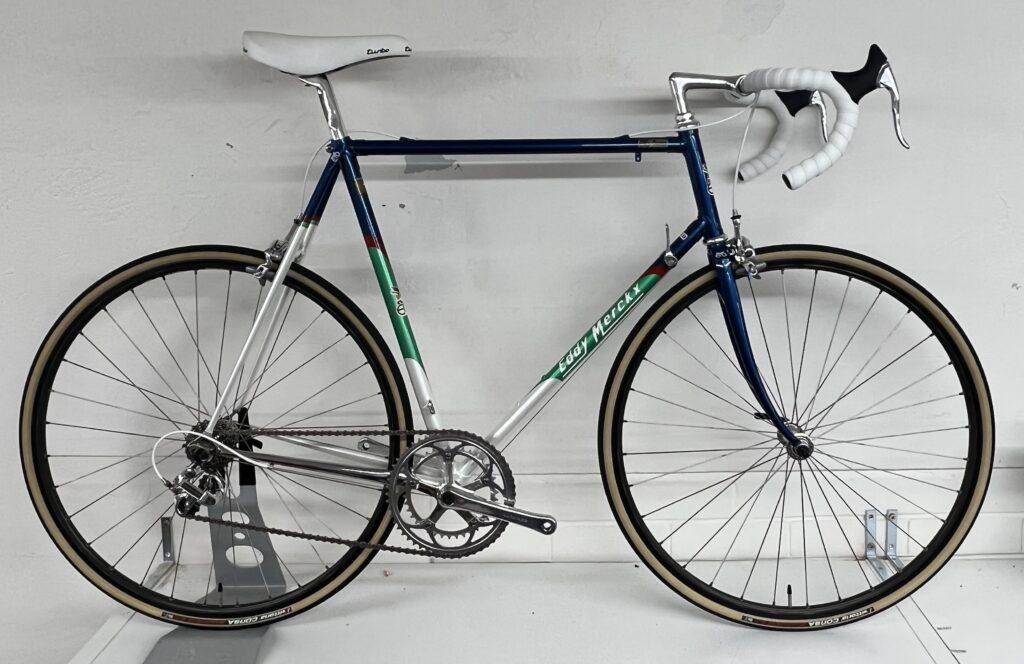 Team ADR
AD Renting (All-Drie Renting), often simply called ADR, was a Belgian team that used EM bikes in 1988.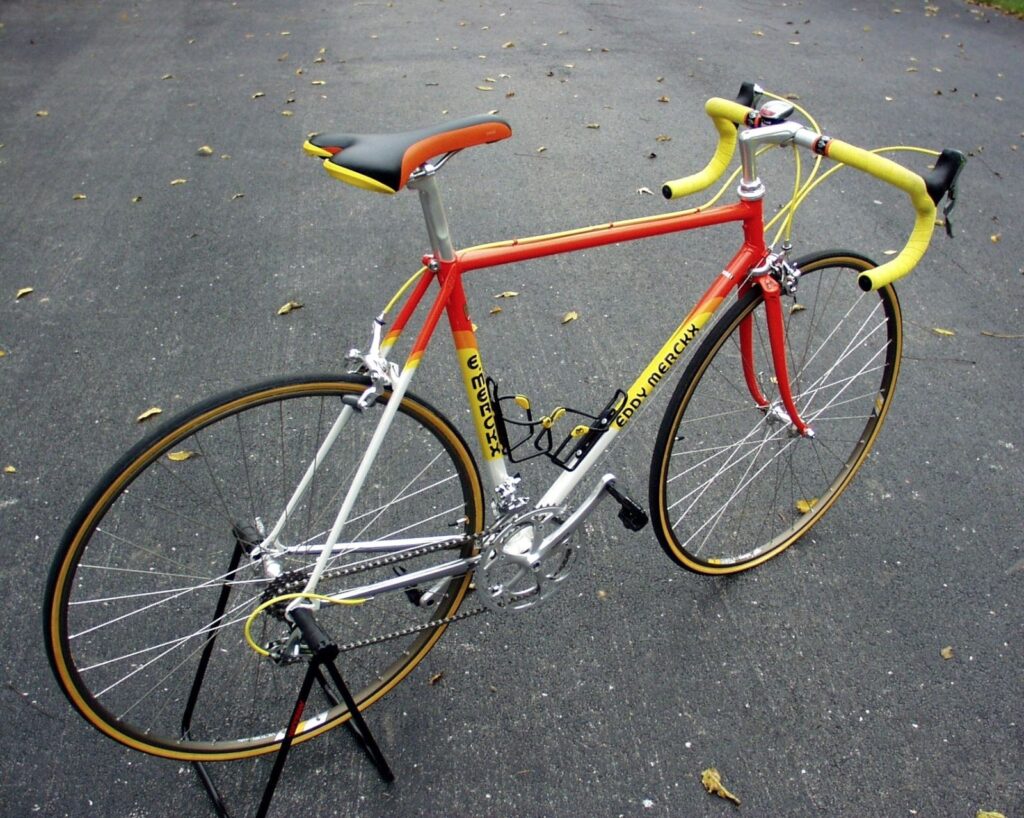 Hitachi
Splendor was a Belgian team that existed from 1975 to 1989. In 1988/89 it rode EMs as Team Hitachi.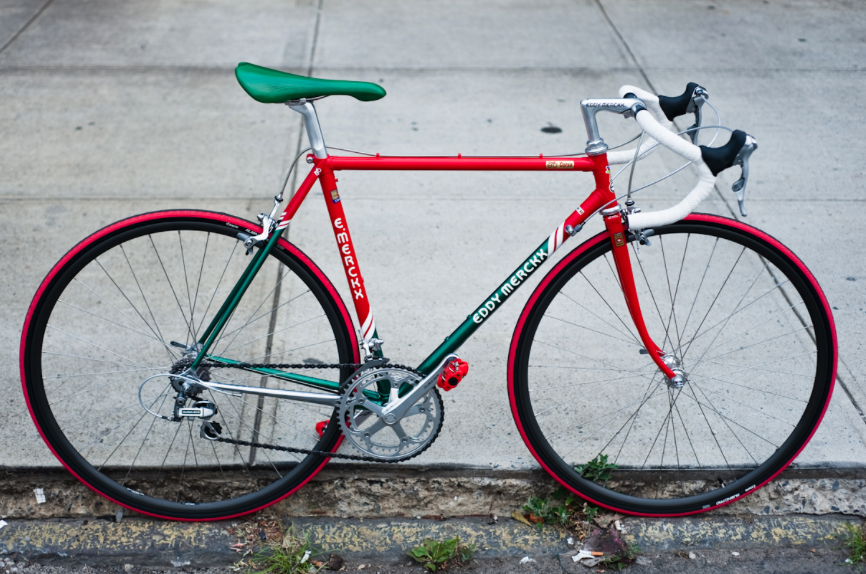 7-Eleven
The first US team to make it big in Europe was 7-Eleven. Appearing in 1989, the 7-Eleven remains one of the most popular EM paint schemes for collectors and enthusiasts.
In 1990, the team changed to Motorola.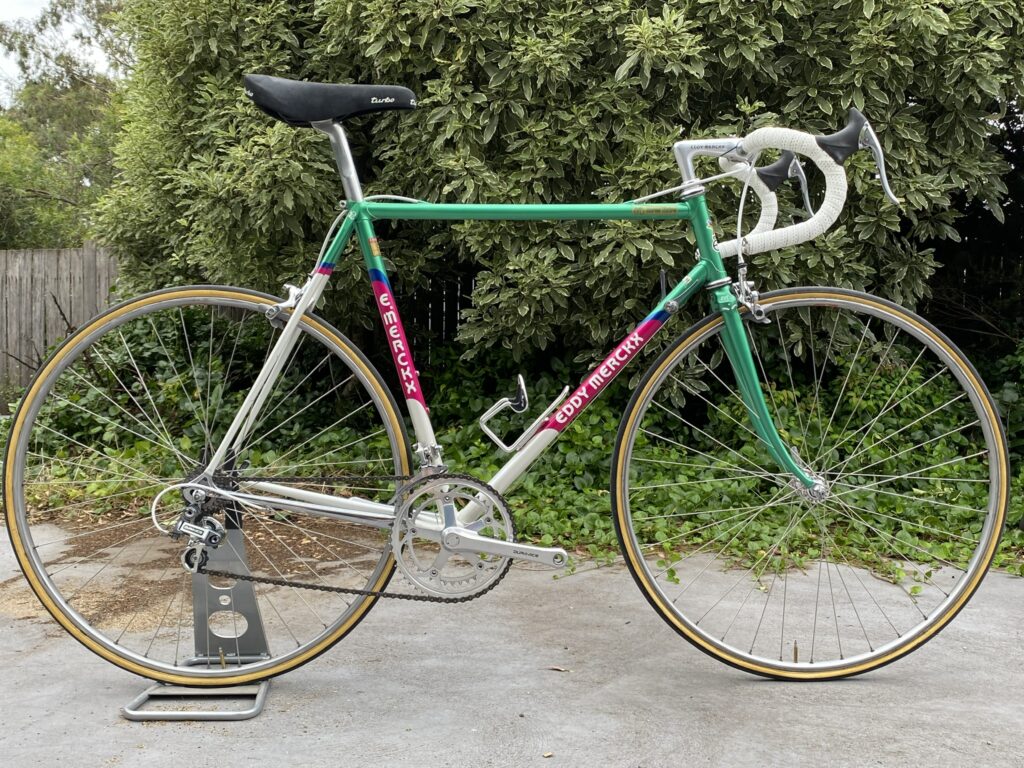 Stuttgart
In 1989 and 1990, Team Stuttgart rode EMs to success in German national events.
In 1991 the team became Team Telekom.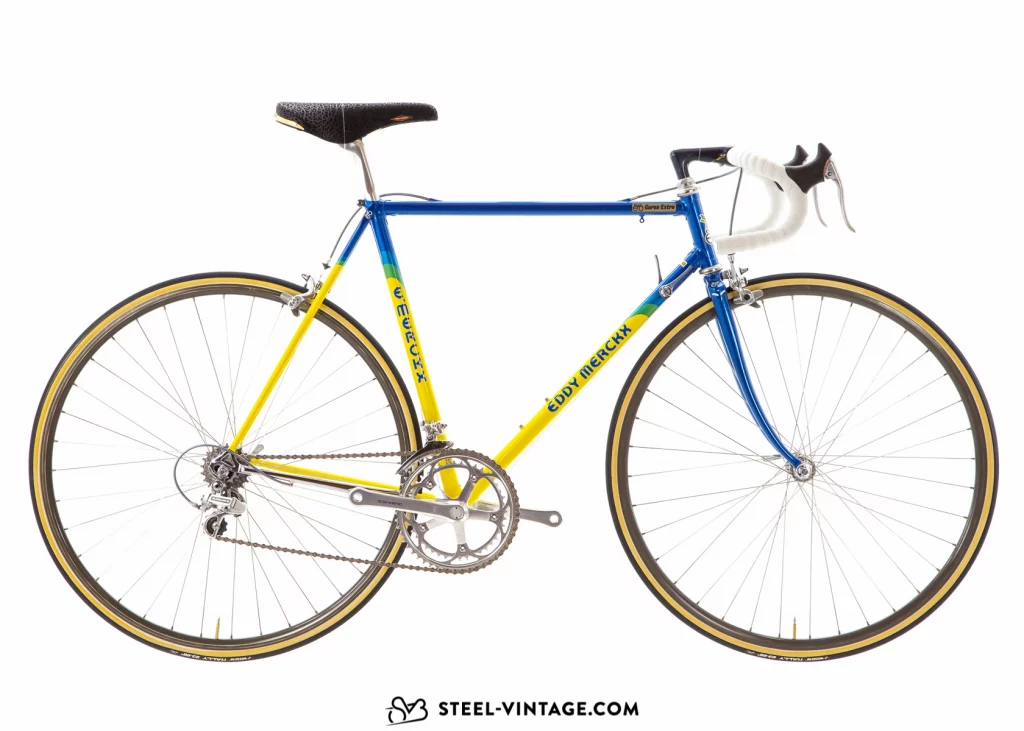 La William
La William was the evolution of TeVe Blad, and appeared in the pro peloton in 1989.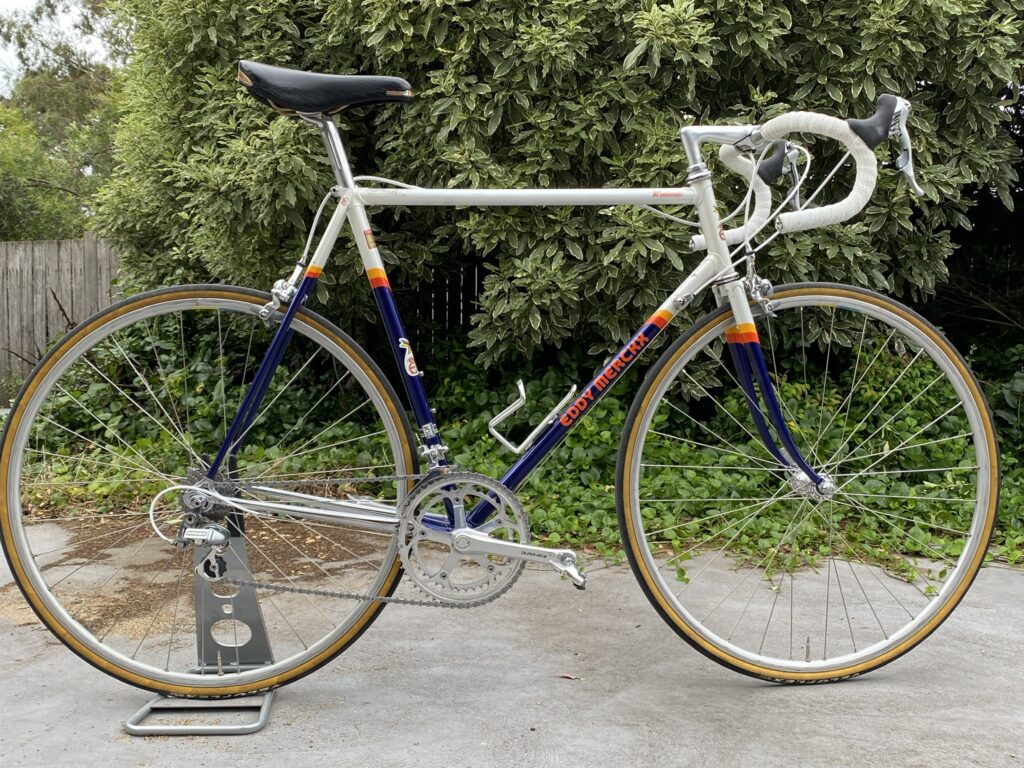 10th Anniversary
To celebrate the 10th anniversary of the Merckx brand in 1990, the factory produced this one-year-only livery.
However, we've seen bikes with original factory paint dated well after 1990, so it must have been an option for new bikes and repaints.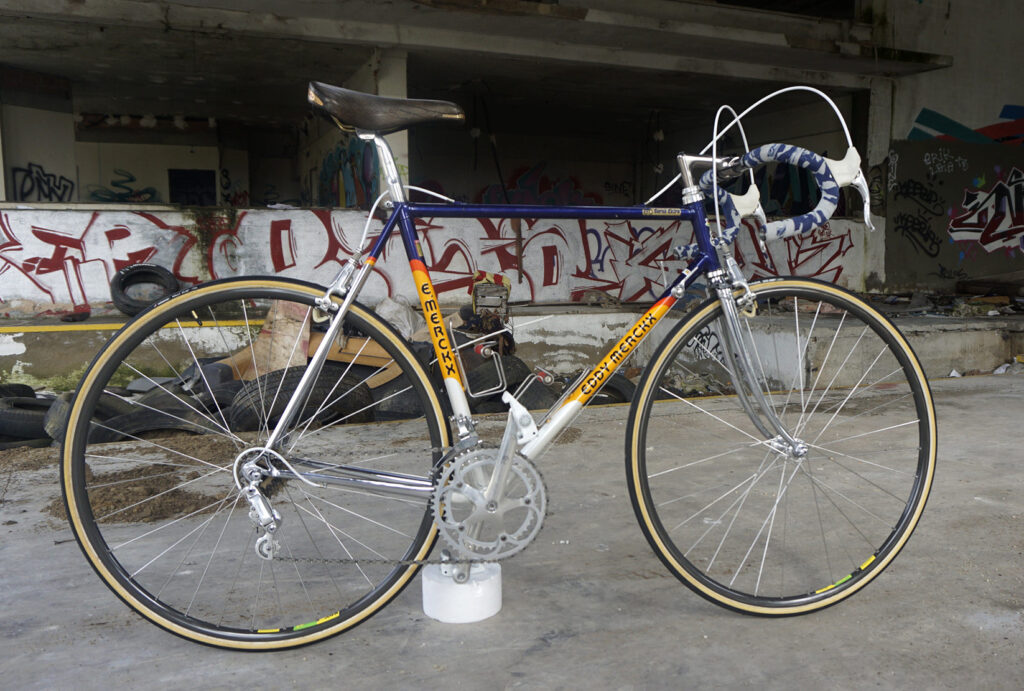 Domex-Weinmann
In 1989 as Domex-Weinmann, the team rode this blue and yellow colourway.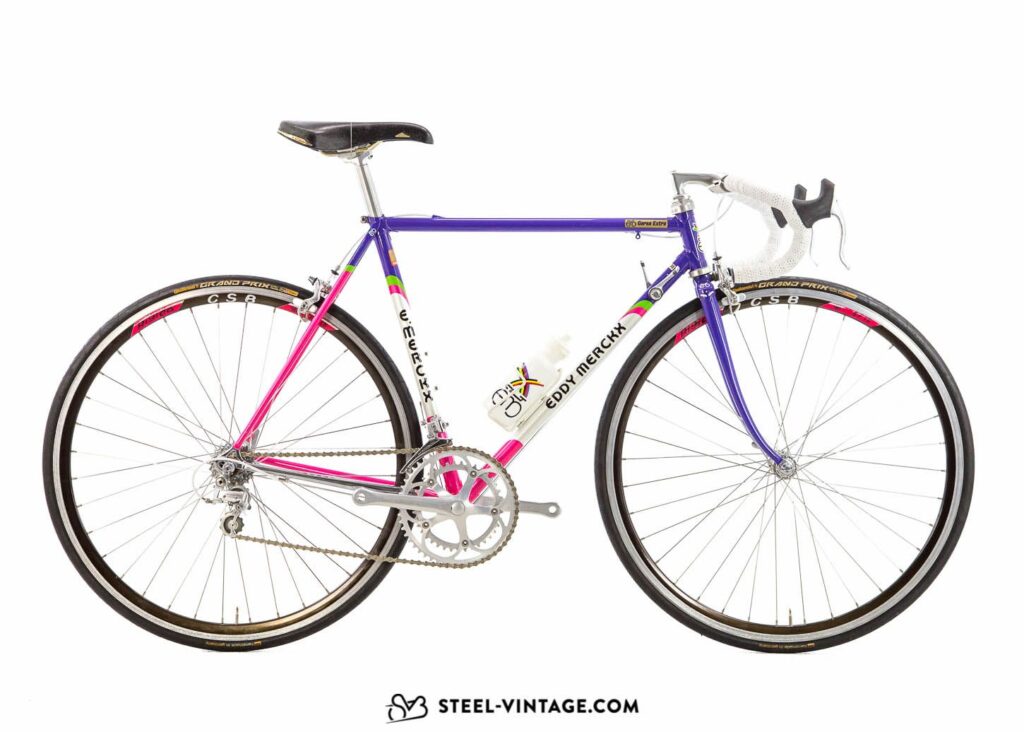 Weinmann
For 90/91, the Weinmann colour way was this very 1990s purple and pink.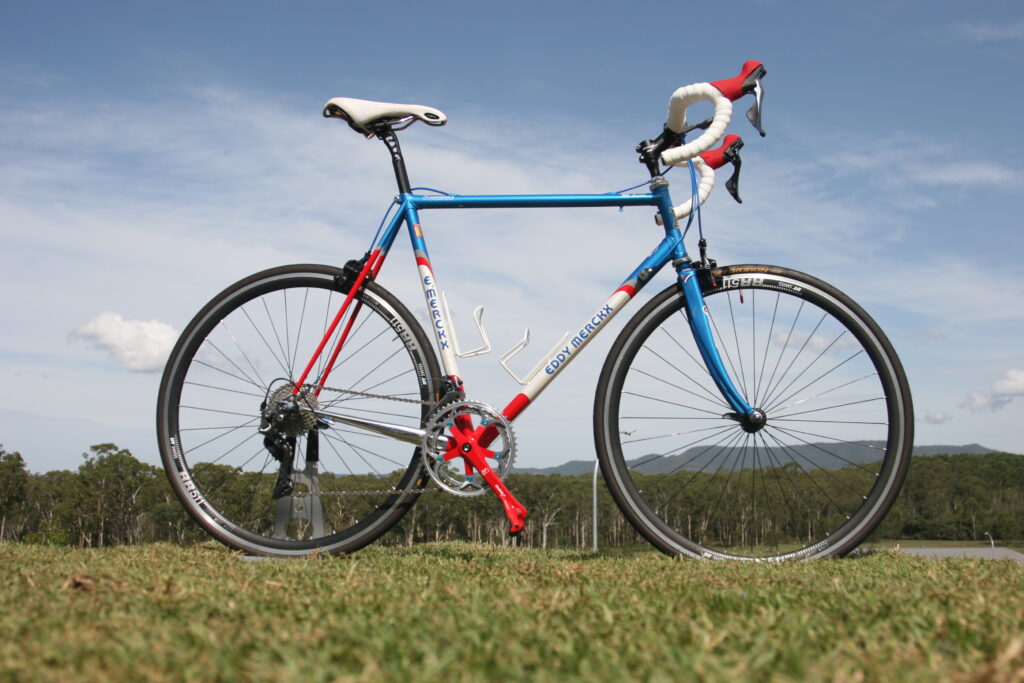 Motorola
In 1990, the US team founded by Jim Ochowicz changed sponsorship from 7-Eleven to Motorola. For the next six years, the Motorola team would be one of the most successful on the European tour, and saw the arrival of Lance Armstrong as a stage winner.
The Motorola livery had a couple of factory versions, with the most famous being the team bike pictured here.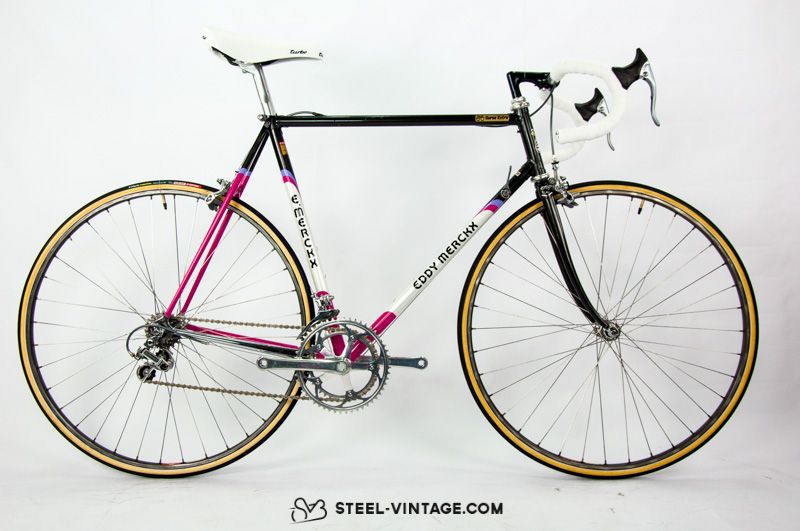 Telekom early
Telekom used EM frames from 1991-1995, both in Corsa Extra and MXL in the early years.
They had excellent results with stage wins and victories in tours and classics.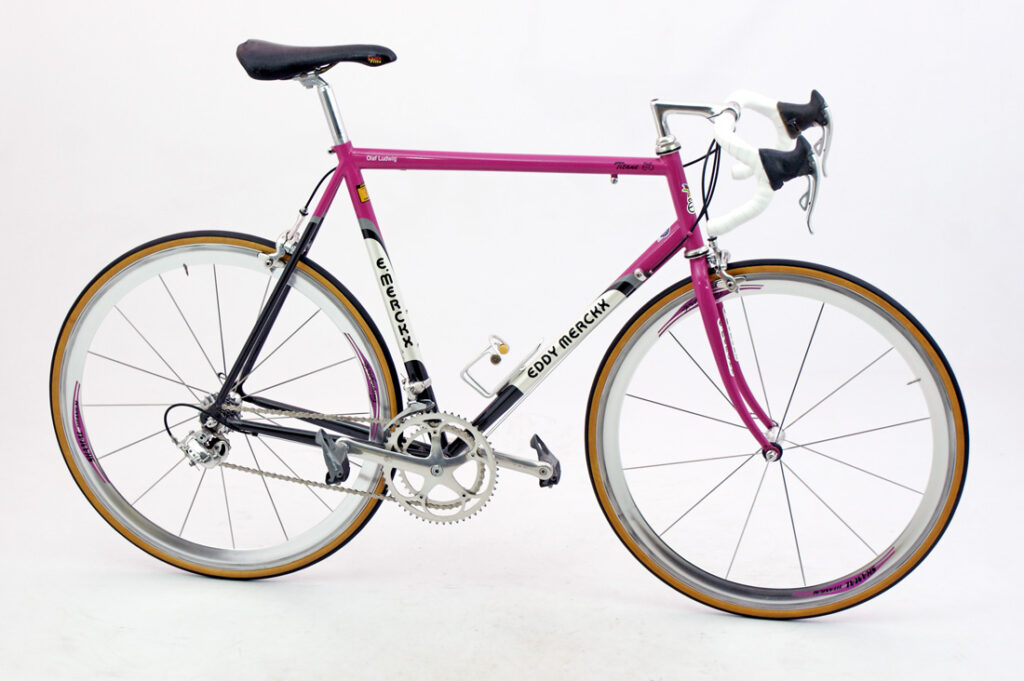 Telekom late
This 'reversed' livery was used by the team in 1995.
Eagle eyes will spot that this is a Litespeed Ti frame with a steel unicrown fork, very common for that time.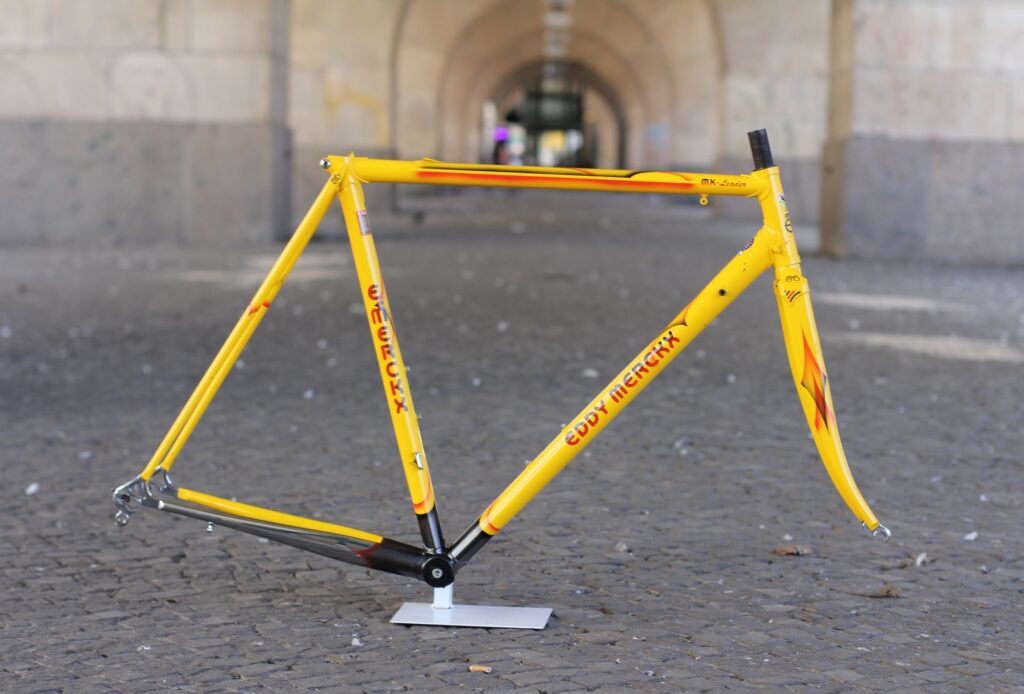 Vlaanderen
From 1994, Team Vlaanderen rode MXLs.
For 2000, the 20th Anniversary of the EM factory, the team ran a custom livery featuring the special 20th logo.
In various version this team used EM frames until 2010.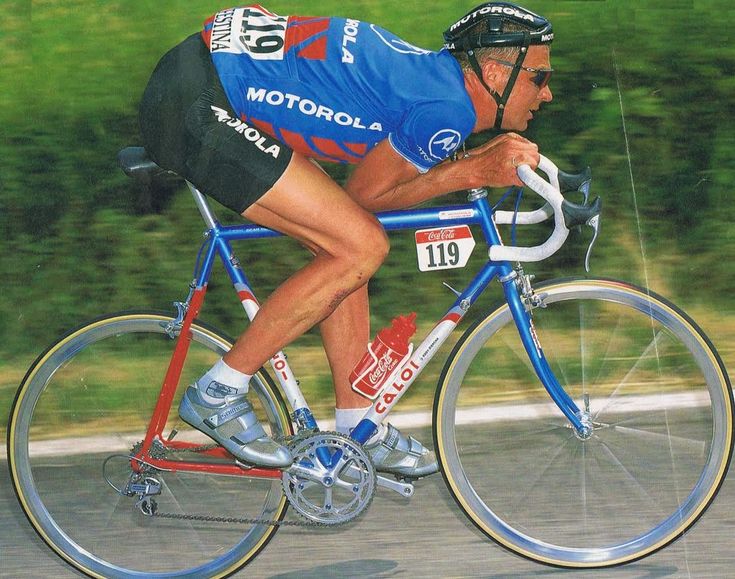 Caloi
Caloi were sponsors of the Motorola team for '95 and '96. The bikes were painted 'Caloi by Eddy Merckx' with Motorola colours.
This photo is from TdF 1995, Sean Yates riding a Caloi branded Litespeed Titanium.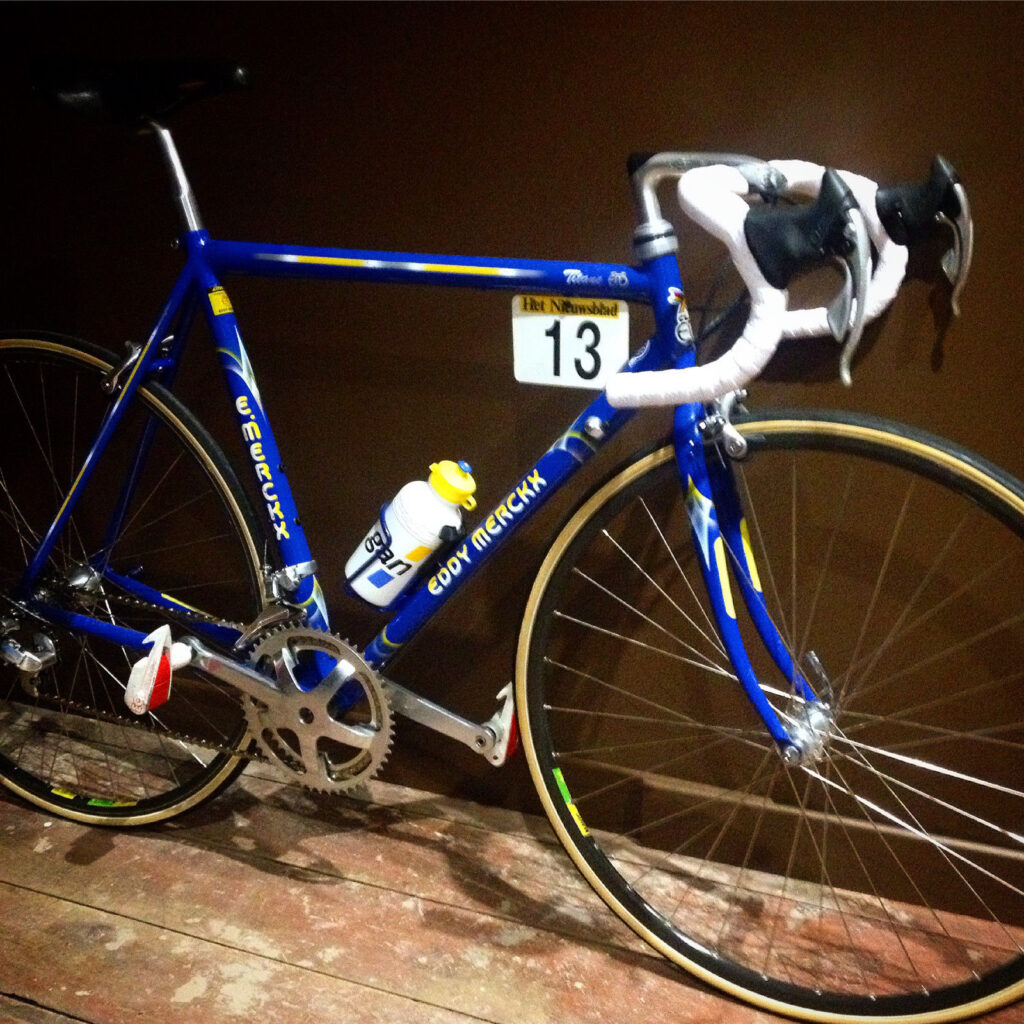 Gan Early
For 1995/96, Gan rode blue frames branded as Merckx, but we know that among the Arcobalenos and MXLs there was some Litespeed Titaniums.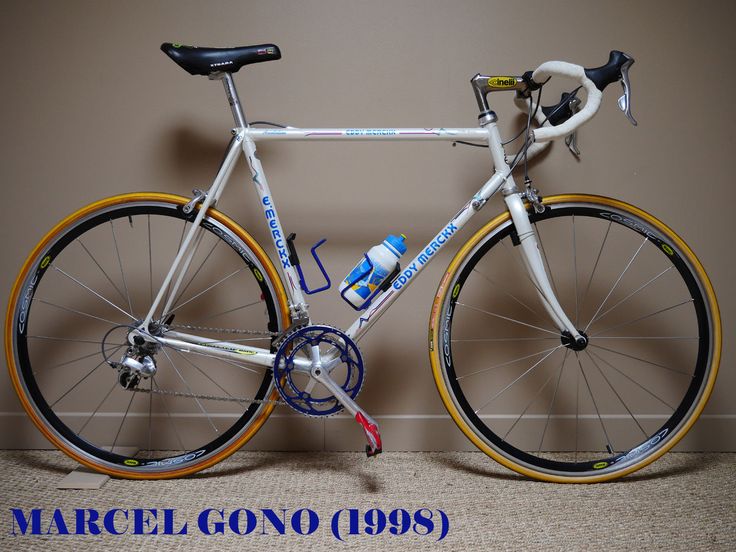 Gan Late
Gan changed to a pearl white frame in 1997 and continued into 1998.
The bike pictured here lives in Perth WA and is still ridden daily and raced in local triathlons!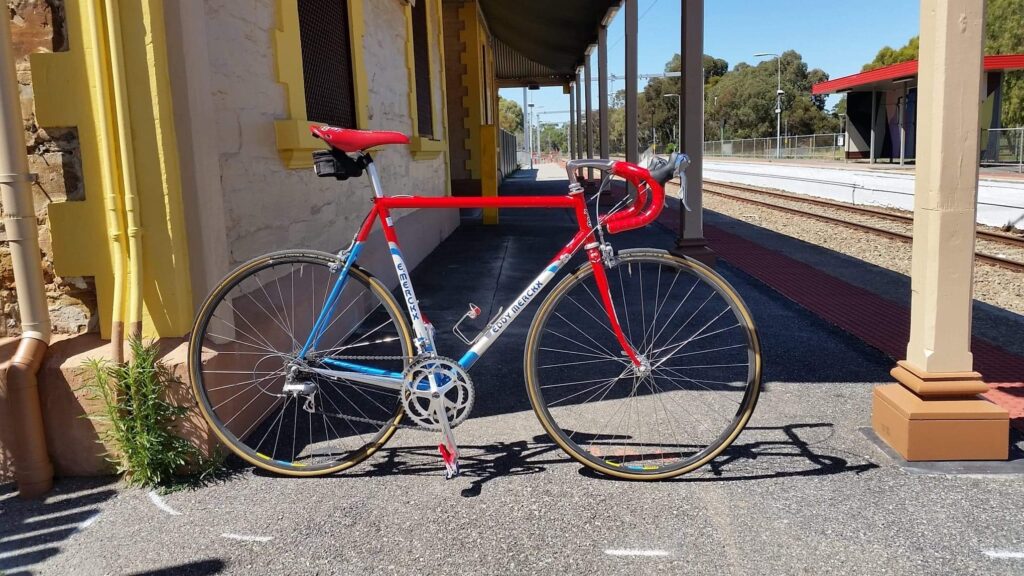 ASLK-CGER
Team bio coming!
————————————
And there you have it. All of the common colours and some of the not-so-common.
There's lots more of course, but for those you must go see the oracle. You can find his posts on bike forums here.