Some years ago I bought my first Merckx; I'd wanted one for a while, and not knowing that much about the different models, I bought the first one that popped up in my size. I still have it, you can see it here .
Since then, I've owned many Merckx models; mostly I buy them and I keep them, waiting for inspiration to strike.
I've only ever bought one with the intention of never riding it, and it's this one. I have a cunning plan, you see…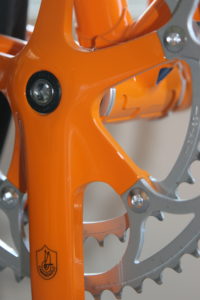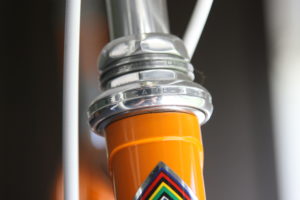 It's an 1983 Professional, built around October. The original colour was a silver metalflake. It has over-the-BB cable routing, and the early flat-crown model (De Rosa style) forks.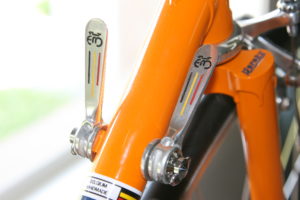 What we can be sure of is that it's a 54cm frame, which is significant for one reason: I ride a 60, which means that I can't ride this one.
See my logic here? #brilliant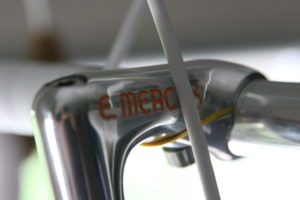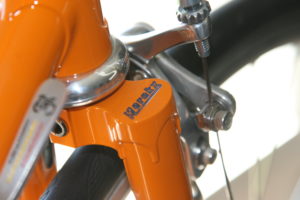 I'm doing some things different with this bike – it'll never be a true replica of a Molteni – because devotion to original period-correctness doesn't sit too well with the way I like to build stuff for myself. I'll often choose form over accuracy (hence the Veloce crank and brakeset, don't they look amazing).
I'm exploring an '80s style concept we used to call Colour Coding, where a single colour is applied in all possible places. Stem pantograph, seat post flutes. One day I'll have the brakeset done as well, and I'm considering making those Record hubs turn orange. Is that sacrilege?
First though, I have to finish it. I think we're close to that; I just found a matching set of NOS Nuovo Record F&R Mechs. They'll cost me, but that cost will disappear into the total spend, que sera sera. Once they're fitted with the chain I hav eready in a box, the cables can go on and it's done.
For now, anyway.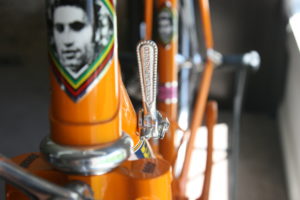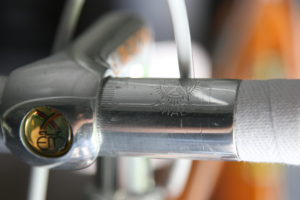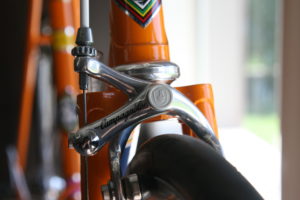 I think i'll keep the full-bike photos until it's complete. We both know I'll never stop tinkering with it though (those rims just aren't right, are they).
Stay tuned for updates, it might be done by xmas, but there's no rush 🙂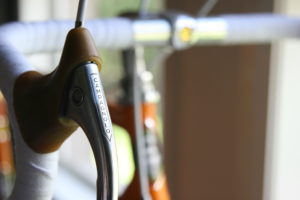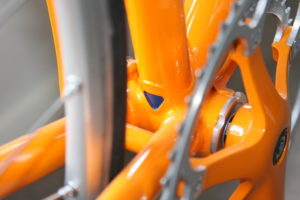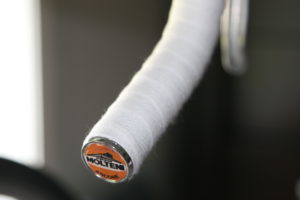 Oh, and in case you're wondering if I'll fit any Shimano to it…c'mon. I'm not a complete nutcase.