This frame was rescued from a workshop where it had laid dormant for about 10 years. Left for repairs by a customer that subsequently disappeared, the frame was perfect for a Millfield transformation.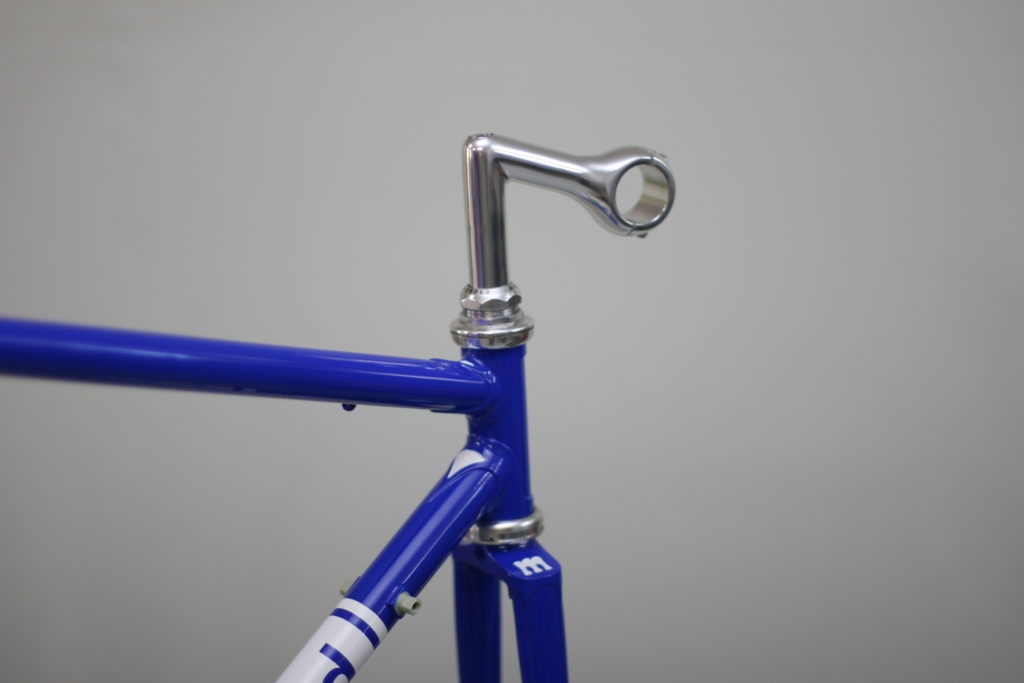 We're not sure what the original frameset was – it had been repainted at some time in the past, and bore none of the original maker's decals, or a tubeset decal. It's really high quality though, with cut-outs in the dropouts and lugs, and 'M' pantographs in the seatstay topeyes and forkcrowns.
We suspect it's a Masi, but with no visible serial numbers, it can't be 100% confirmed.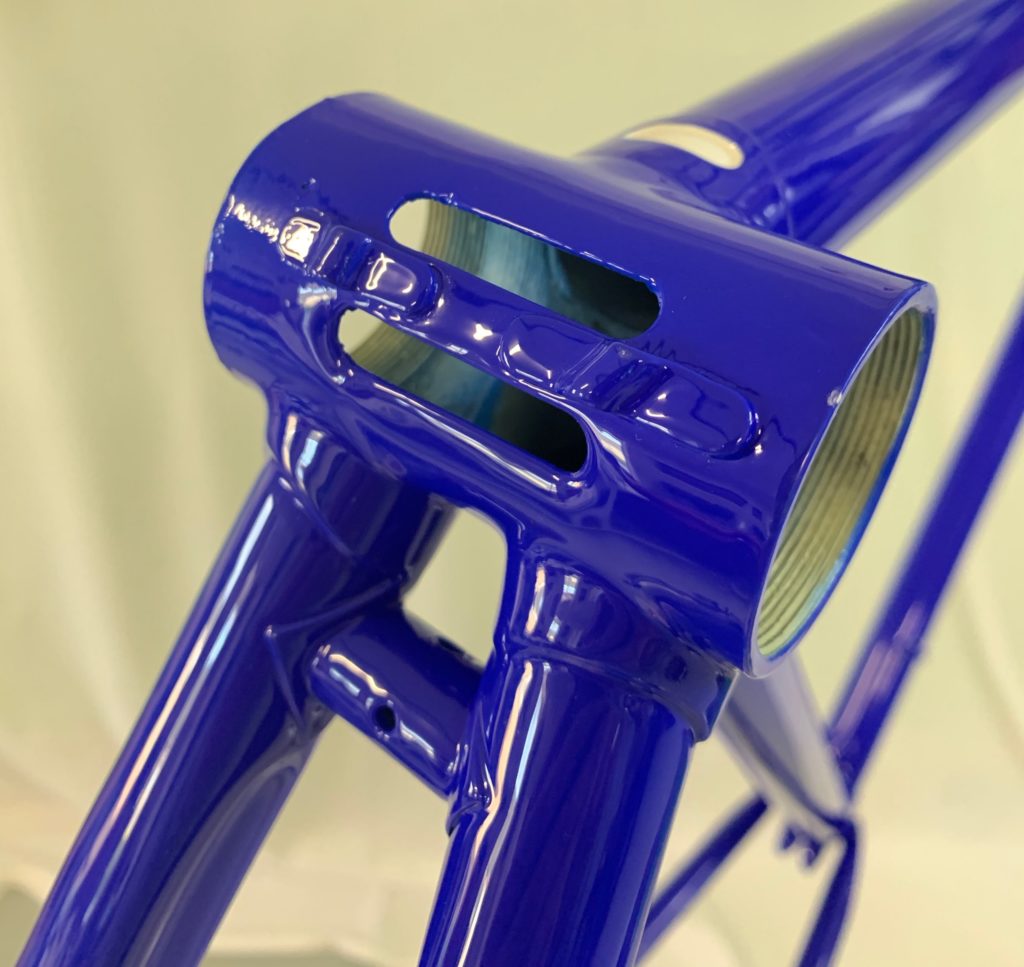 I doubt that the cable guides were originally under the bottom bracket. I think they've been relocated here, probably when it got a repaint. If it is a Masi, the serial is under these cable guides.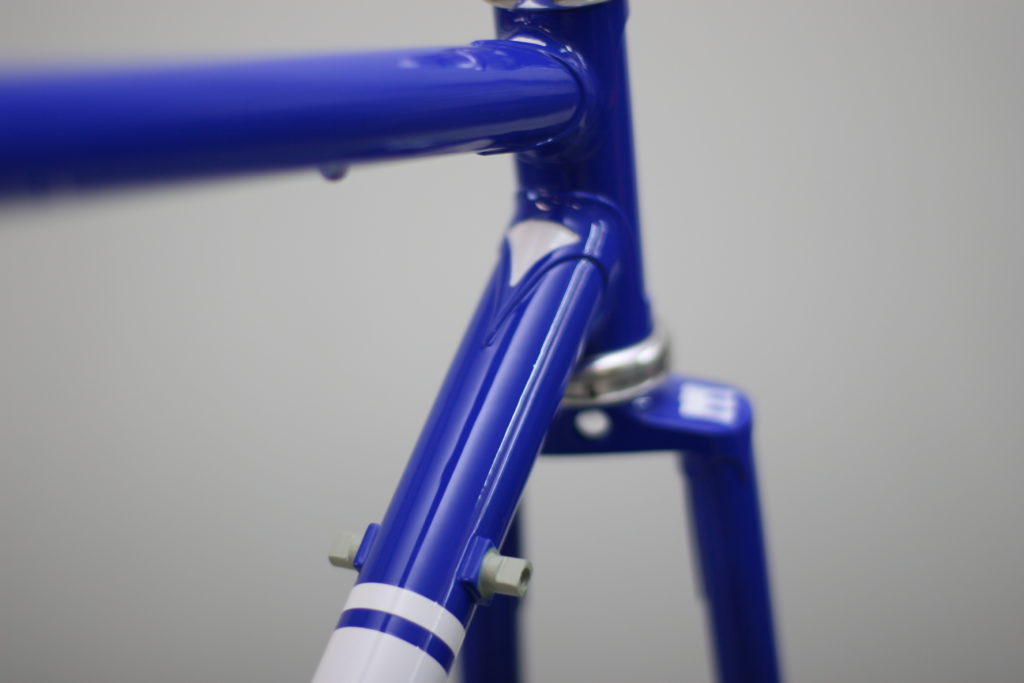 The frameset is in immaculate condition. It was recently repainted in Gios Blue, by Star Enamellers. All of the lug cutouts and pantographs have been hand-filled in white.
Rear dropout spacing is 126mm, so it can take up to 10-speed drivetrains. This dropout is the common Campagnolo 1010A dropout, but drilled to this condition for weight reduction. I am told that there were many other bike manufacturers like Losa, Masi, Olmo etc doing this.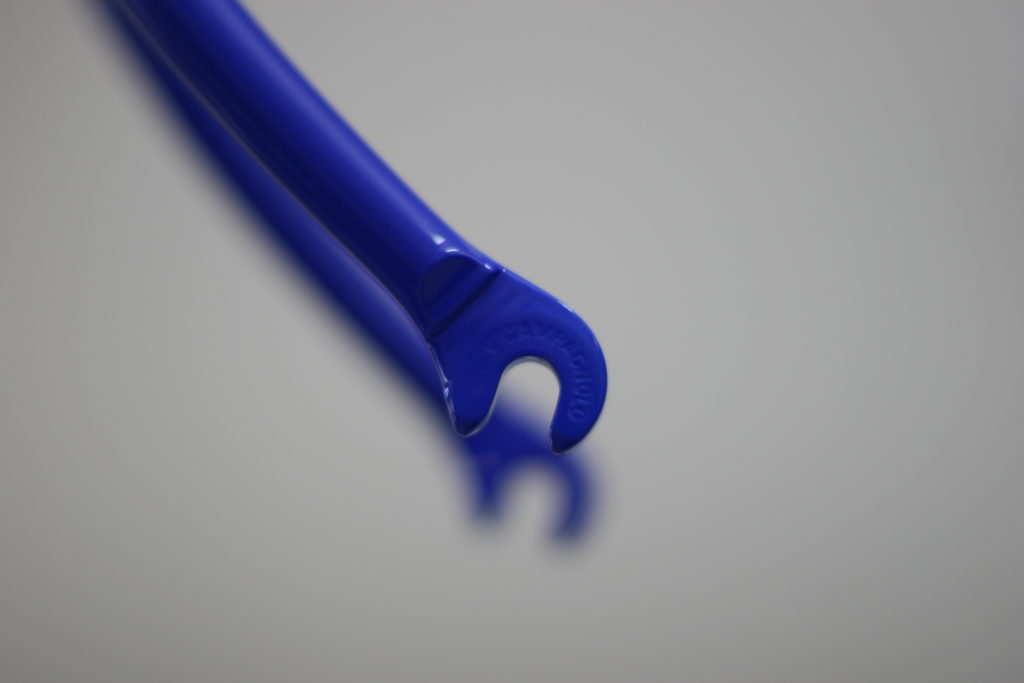 Front dropouts are Campagnolo. The frameset is size small, ST49/TT51. It will suit a smaller rider with a height around 160cm, and an inseam of 70-75cm. With the late model alloy Record headset installed, it weighs 2.5kg.
I think this frame is perfect as an all-road conversion. The forks and rear triangle will take 30-section tyres, so it will perfectly suit a 2×9 Dura-Ace drivetrain with downtube shifters and an 11-30 rear cassette for the annual Noosa Strade Bianche event.
This frameset is now available. It can be purchased as-is, or built with road bars or flat bars – we have both options available in many different widths, plus a wide range of groupsets to suit your preference. Contact us here to discuss your needs and how this frame can be custom-built for you.