The 10th Anniversary was a one-off model in the 1990 Merckx range, celebrating 10 years of Merckx bicycles. It is still one of the most iconic and sought-after models in the Merckx timeline, with a unique livery in pearl white and blue, one-off Eddy Merckx signature decals and custom 10th anniversary Merckx logos.
Released in two versions, the Europeans got a TSX frame with flat-crown forks, while the US (and Australia) got an SLX frame with sloping-crown forks.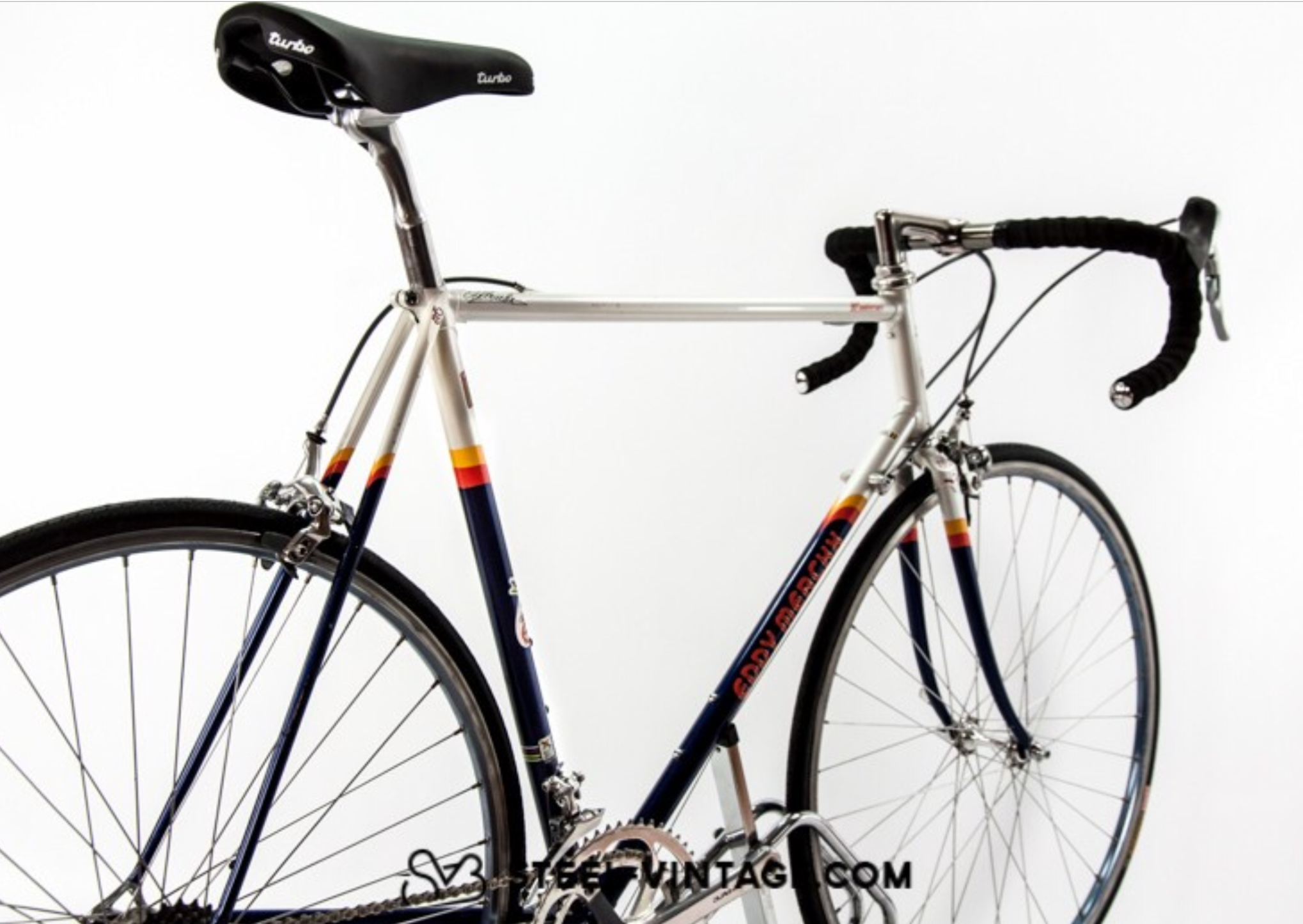 Our replica is a 1995 frame, in Columbus SLX NEW, built as a race bike with number hanger. The frame was purchased in 2018 as 'New Old Stock', and until then had never been painted, built or ridden.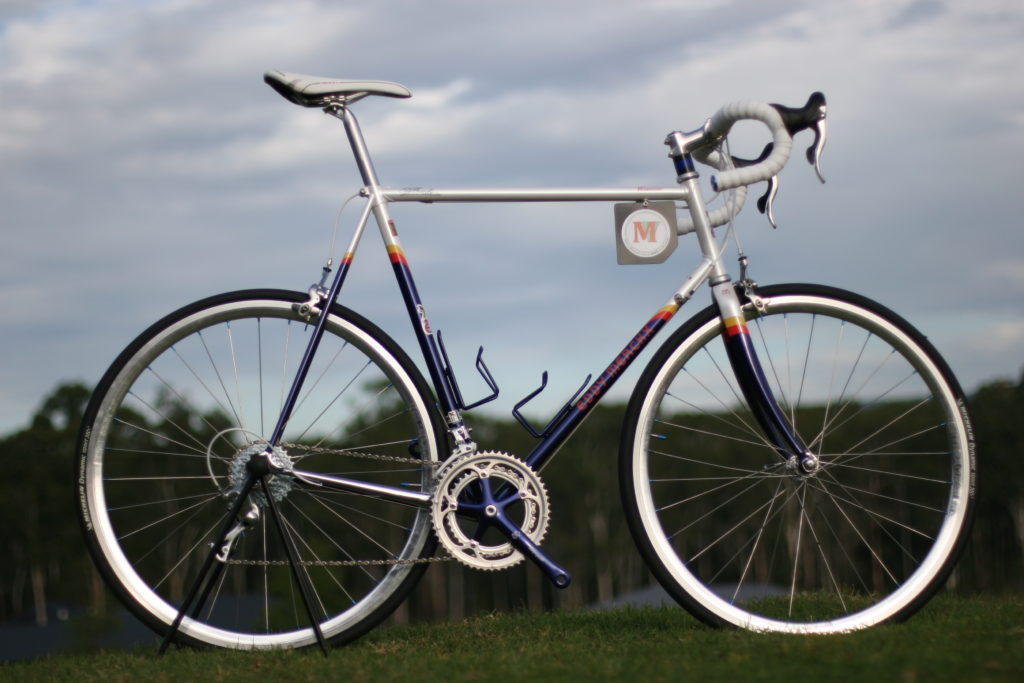 For light weight and riding comfort, the frameset is completed with a pair of Tifosi Carbon forks, and a Miche threadless headset. The forks have been painted with a custom version of the 10th Anniversary livery that highlights the carbon material on the inside of each forkleg.
Subtle carbon-fibre highlight in each forkleg

Custom Merckx decal on the forkleg crown
The design of our neo-classic replica mirrors the original bike design, with its polished alloy Campagnolo groupset and silver wheels.
We're using a current model Campagnolo Veloce 20-speed groupset in silver. The period Record crankset is colour-coded to the frame, with replica Campagnolo and Merckx decals under the clearcoat.
10 x 2 Shifters

11 – 30 cassette
The wheelset is a custom build for this bike, with Record Titanium hubs laced to Erdmann light-alloy rims on stainless DT Swiss spokes and blue anodised nipples.
Record Titanium Hubs…

…mirror-polished.
The seatpost, stem and 31.8mm handlebars are all Ritchey Classic, adding to the neo-classic aesthetic.
At first glance, this bike appears to be vintage. It has classic looks and an immaculate finish. However, it will ride like a modern high performing road bike, with seamless shifting, superb brakes and class-leading rider comfort.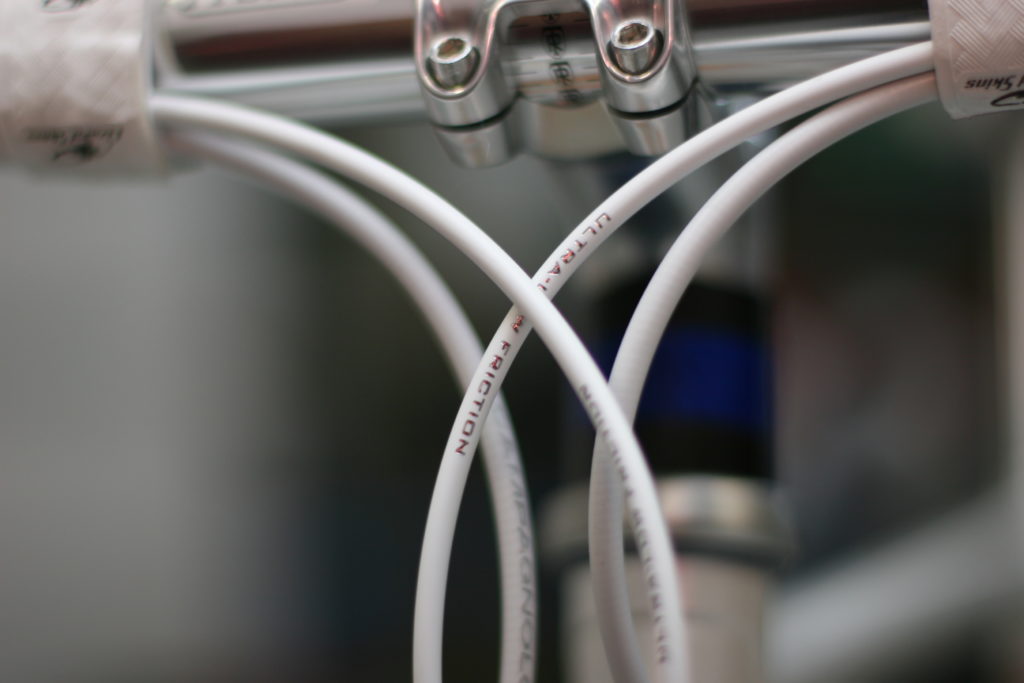 Frame size is ST62/TT59.5, so will suit a taller rider.
Serial is P-2-W-1710-G, which indicates a 1995 or 1996 build, as G ran from 95 to 98.
This bike is now sold, and has shipped to the US, where it's carving up the Oregon highways with its new owner.