Chez is (only) 4'11", but she's fast and she knows what she wants. She came to us with a challenge to build a commuter bike that would be light and fast.
"Oh, that's easy…", we said. "…you need a 26" Kerbmaster."
We started with a tiny 14" Avanti MTB frame, fitted Mosso M5 29er light alloy forks to retain the frame geometry, and stripped all the non-essential bits. Carbon riser bars and seatpost.
Mighty Mouse technically isn't a Kerbmaster, because Chez doesn't fit the knobby tyres – when she's commuting, MM has 26×1.25 roadie tyres on.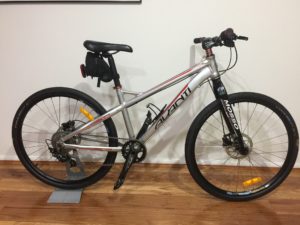 Everything about MM is #kerbmaster. Shimano Zee 10sp gruppo, stupid-short gearing (34f, 13-36 rear), fat brakes and carbon carbon carbon.
MM weighs in at 9.5kg as you see it here. Chez loves it, and in Sydney morning traffic it's a weapon.
And when Chez fits the knobbies and brings Mighty Mouse out for a Sunday bash on the streets with the FOWGs, she gets called the Pocket Rocket for a reason. We can't keep up!