One of the bikes in the Museum is Roger, our 2015 Cannondale T2 tandem.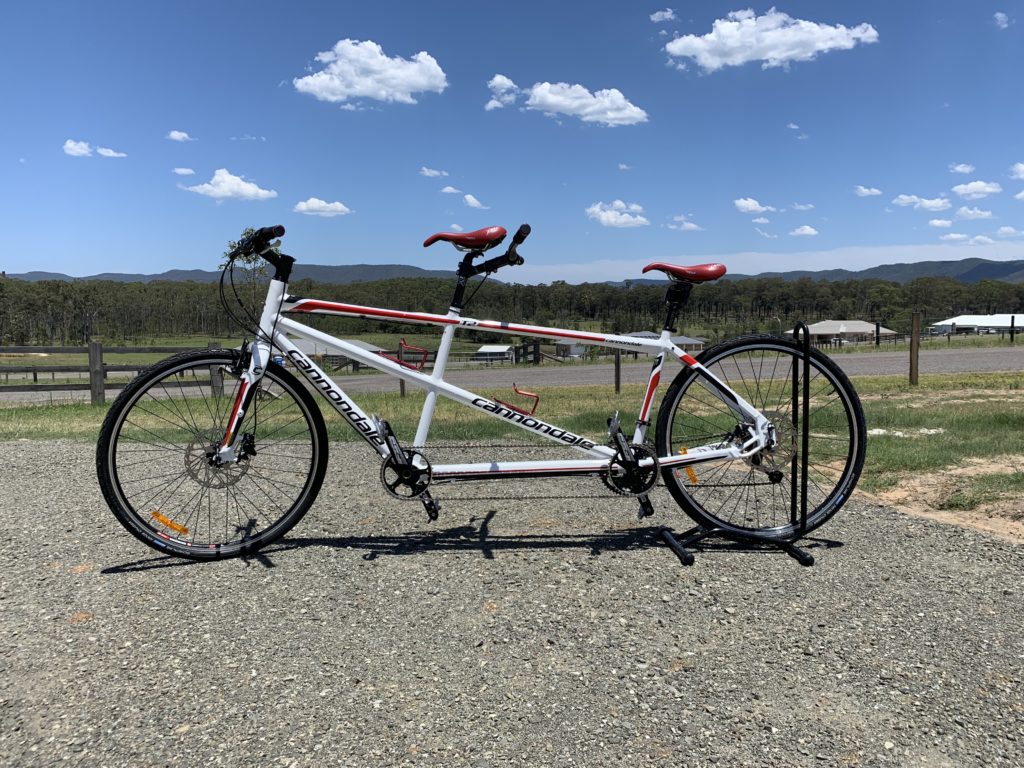 Roger is our second tandem; the first (Myrtle) was a surprise for my wife, who (at the time) could not ride a bike. I found Myrtle as a frameset in a bicycle graveyard, squeezed it into the back of the car, arrived home with a "Look what I bought!!" and then spent a couple of months in mechanical restoration.
Myrtle was chinese steel (heavy, so so heavy) with questionable engineering. I built some heavy duty MTB 26″ wheels, converted the single-speed design to 18-speed shimano (worked OK), and converted it to run V-brakes. I spent $500 to get it working, then dressed it up with new bars and saddles, a basket and a rack.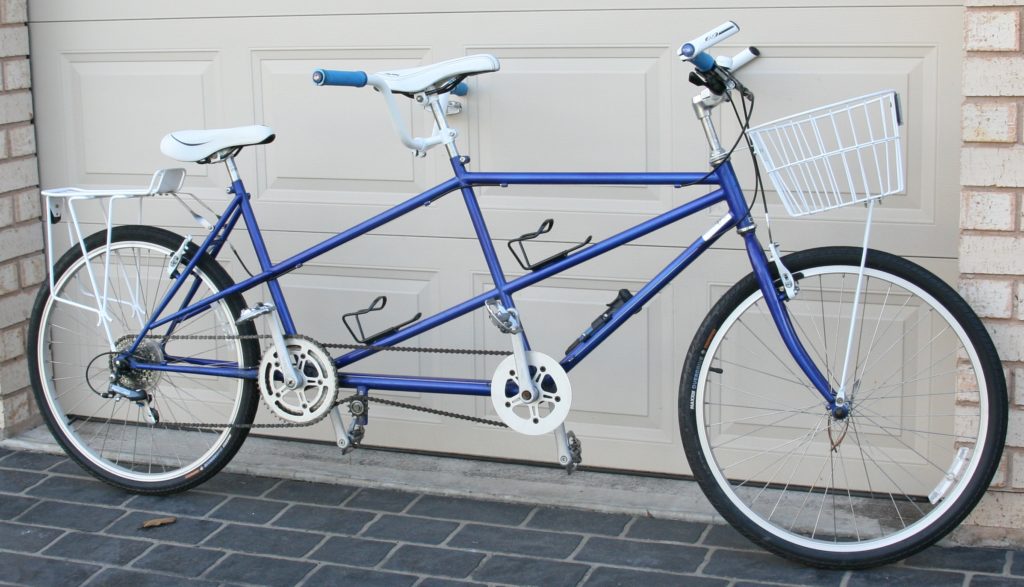 If you look closely at the photo, you'll see both the drive chain and the synch chain run on the RHS. It's a triple rear chainset, where the inner ring is the synch chain, and the outer two rings are the driveset. Needs-based engineering, I call that 🙂
I often say that tandems will change your relationship, and fortunately, ours was changed for the better. I know that not all tandem experiences end that way. We toddled around town and rode to the cafe on a Sunday, and threatened to do more. Wife enjoyed it, let the good times roll.
But Myrtle was much too small for me – I ride a 60, and she was a 54/50. Tiny!
Budget for a new tandem requested – and approved! Off I went in search of a good one…and came to a screeching halt. In 2013, none of the general brands were making Tandems. I could get super-dooper ones for $10K, and carbon race frames for $20K, but I wanted to spend $5K maximum.
Wait a year…keep looking…internet searches…emails to manufacturers…then some good news. Cannondale was going to release a new Tandem line in 2015, in a couple of versions! I'm in!!
We had our pick of a MTB 29er (not going there!) and two road models – one with Ultegra 30sp and one with 105 30sp. I picked the 105 because of the colour scheme, and because we just didn't need Ultegra for an extra 20%. We put a deposit down on the largest size – Jumbo/Medium, and waited a year for it to arrive.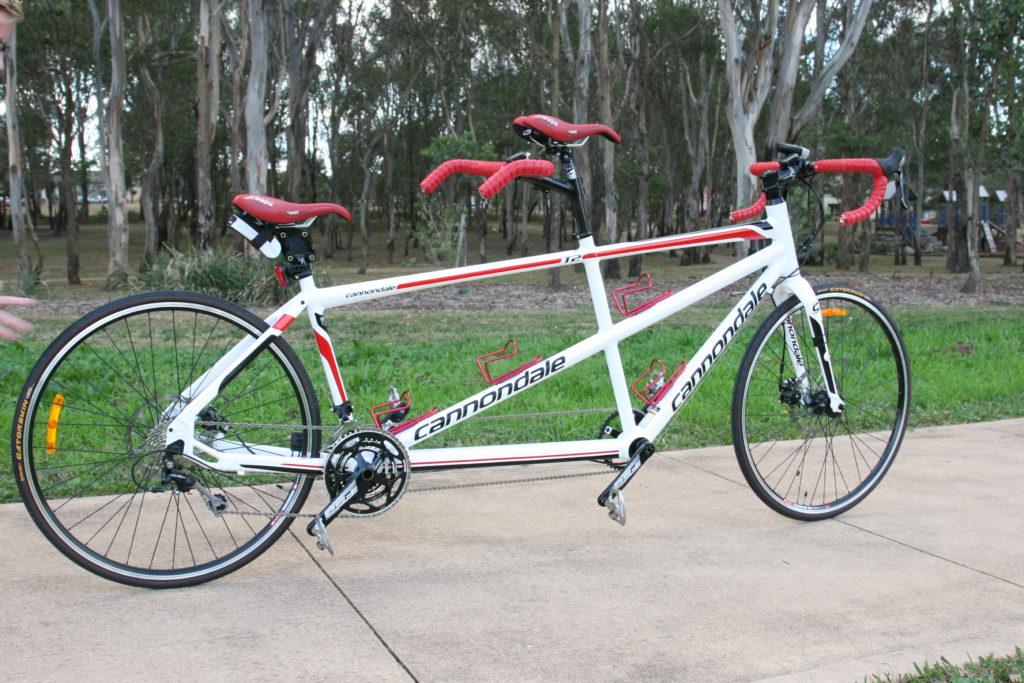 I ordered Roger with a Thudbuster seatpost on the rear. Tandems are hard on the Rear Admiral, because she can't see all the little bumps and dips in the road, so unless I'm constantly telling her what's coming, she gets lots of surprises. My message to you is this: Love your Stoker, and give her a Thudbuster.
After a couple of rides, I converted Roger from a drop-bar to flatbar. We weren't doing any long distances, and around the suburbs it was tricky to control, even with 44cm bars. I put 74cm carbon bars on the front, and 70 on the back. I raised the bar height with a 15 degree stem, and put wife-approved TRK saddles on it. I swapped out the 105 shifters for XT 3 x 10, and fitted 32-section tyres.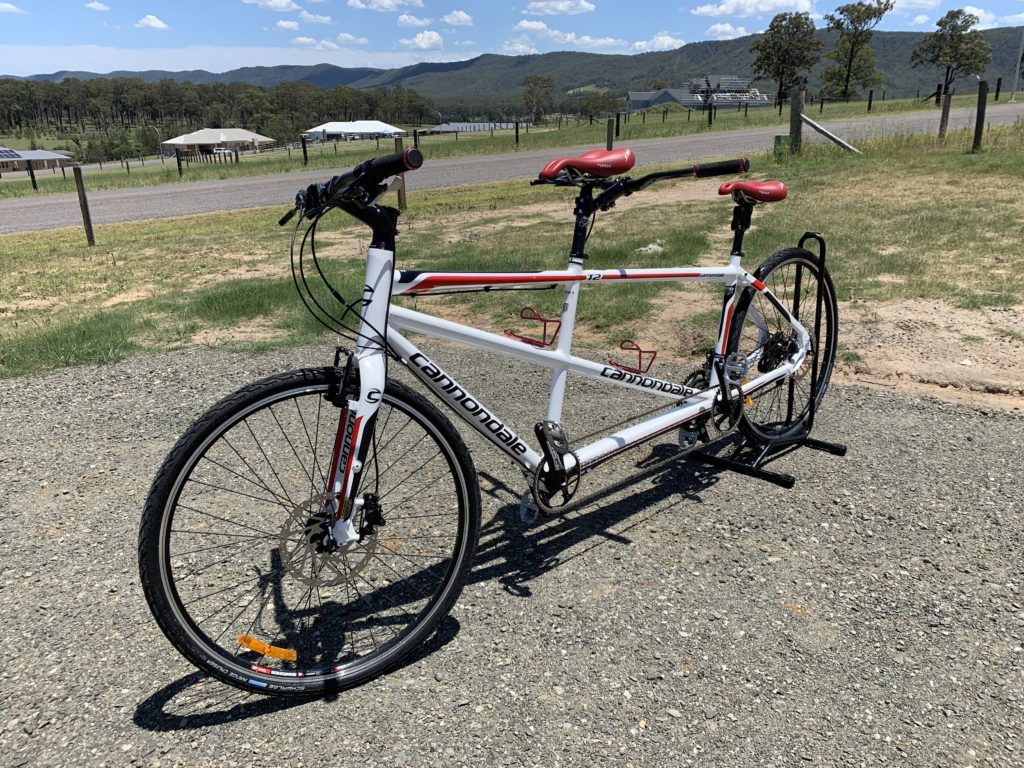 We took it out for a long ride, and ran out of brakes on a long downhill. Eeeek! 205mm brakes were fitted ASAP to front and rear, plus a hydraulic front caliper. And because I am prone to over-engineering, I also fitted a Shimano V-brake to the front, thanks to the legacy post mounts on the forks. Before you ask the obvious question – I put the brake lever on the rear bars. I trust her 🙂
No more running out of brakes on this bad boy, he's got three!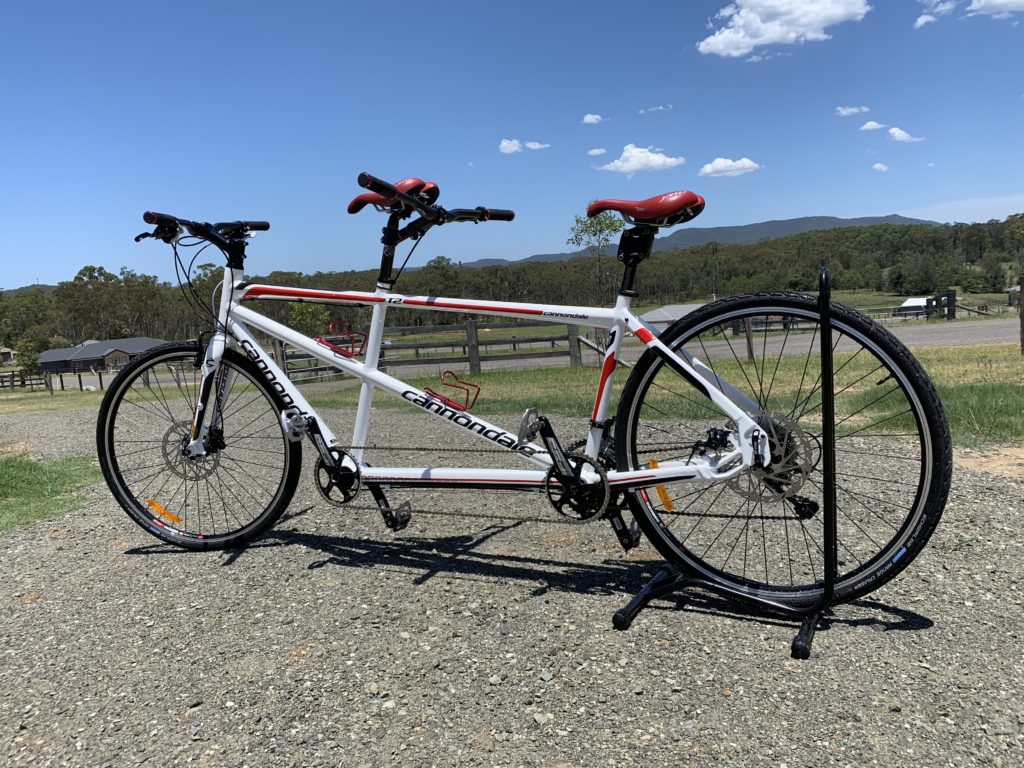 Roger is finally out of storage, and back on the road for 2019.