Some time ago, I asked a friend for a frame.
"Something cheap and cheerful.", I said. "Just need a quick build for the Winter, while my Merckx is being painted."
"I have just the thing…", he said, "…ever wanted to own a Ferrari?"
And along came the photo.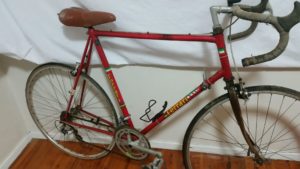 Oh Geez. It was tired, so so tired. And it was rusty. Quite rusty, in fact. But it was a Ferrari, right? Of course I wanted it. You would too.
So Big Red finds a new home at MV, and we strip it down to see what it's got. It's a Technotrat frame, with a never-before-seen Bozzi/Falck decal on the downtube. It's about an '85 model I reckon, cables under the BB, but no brazed lugs on the downtube – it had a clamp-on shifter set. Must have constantly come out of tune in the cables, the 80s weren't always high quality, huh.
A full 105 gruppo though; shifter, mechs, brakes, crankset, hubs. You can find them on eBay now, there's a good home out there waiting for them (please bid!).
The forks had both problems – they were rusty, and they were shit. Scrap bin for them.
But Big Red was straight, not too rusty for a resto, no damaged threads, and with a couple of small adaptations he would take a 2017 gruppo and live a second life.
Test Mule Time! I'd been wanting to build a 30-speed for a while, with a 30t inner front chainwheel to combat the local heart-stopper we call Twin Peaks.
Surgery over, Big Red is a rocket ship that also climbs like a billy goat. What a ripper.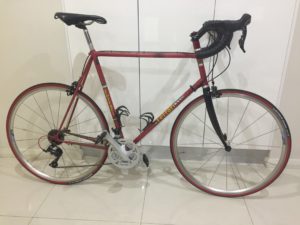 105 5700 10sp triple, Carbon Tifosi forks, WH-R550 Wheelset. Did a 40km shakedown and it's a bloody crackerjack. Goes up like a balloon and it's rock solid at 45kmh. I love it when a plan comes together.
And did i ride it again? Of course not. By the time I had all the little bits I needed to get the gruppo running right, the #1 bike was back from the paintshop, and calling out for its new build.
So straight to phase 2 for Big Red; now it's in the safe hands of Peter Fleming @ Star Enamellers, with a fresh set of Cyclomondo decals and a bright future.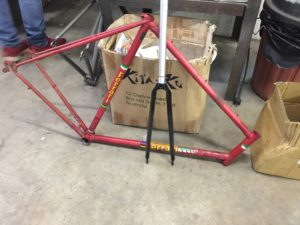 Stay tuned for this Maranello Red 30-speed super bike to hit the road in early 2018.
Expressions of interest to our contact page please!