Back in November of 2017, I bought a Motorola…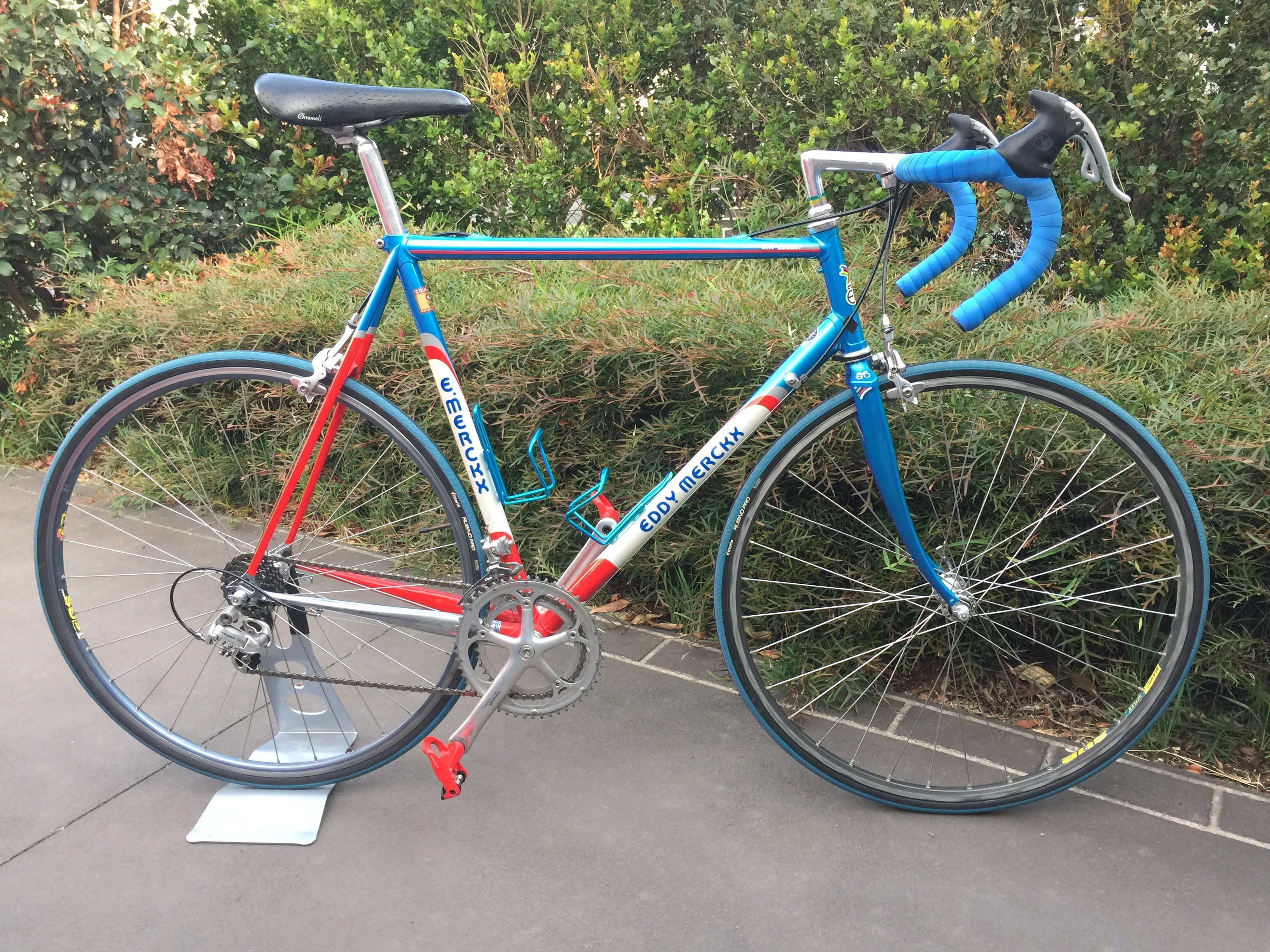 "It's pretty," my wife said, "…though we'll need some Union Jack bed linen if it's going in the bedroom."
It didn't go in the bedroom.
18 Months ago, this was what I said about this bike:
I think it'll need a repaint, there's a fair few chips in the paint, and a ding in the TT. Nothing that can't be fixed.
I'm going to ride it first, though. It's got a 9-speed Record gruppo on it, and 'Old Campagnolo' is not The Millfield Way.
I happen to have some spare Shimano Gruppos lying around, so for a while this bad boy is going to sport a 105 5800 11-speed setup.
I'm going to keep those red Look Keos, though. They're sick.
Stay tuned!
* * *
Update Jan '18
Phase 1 complete.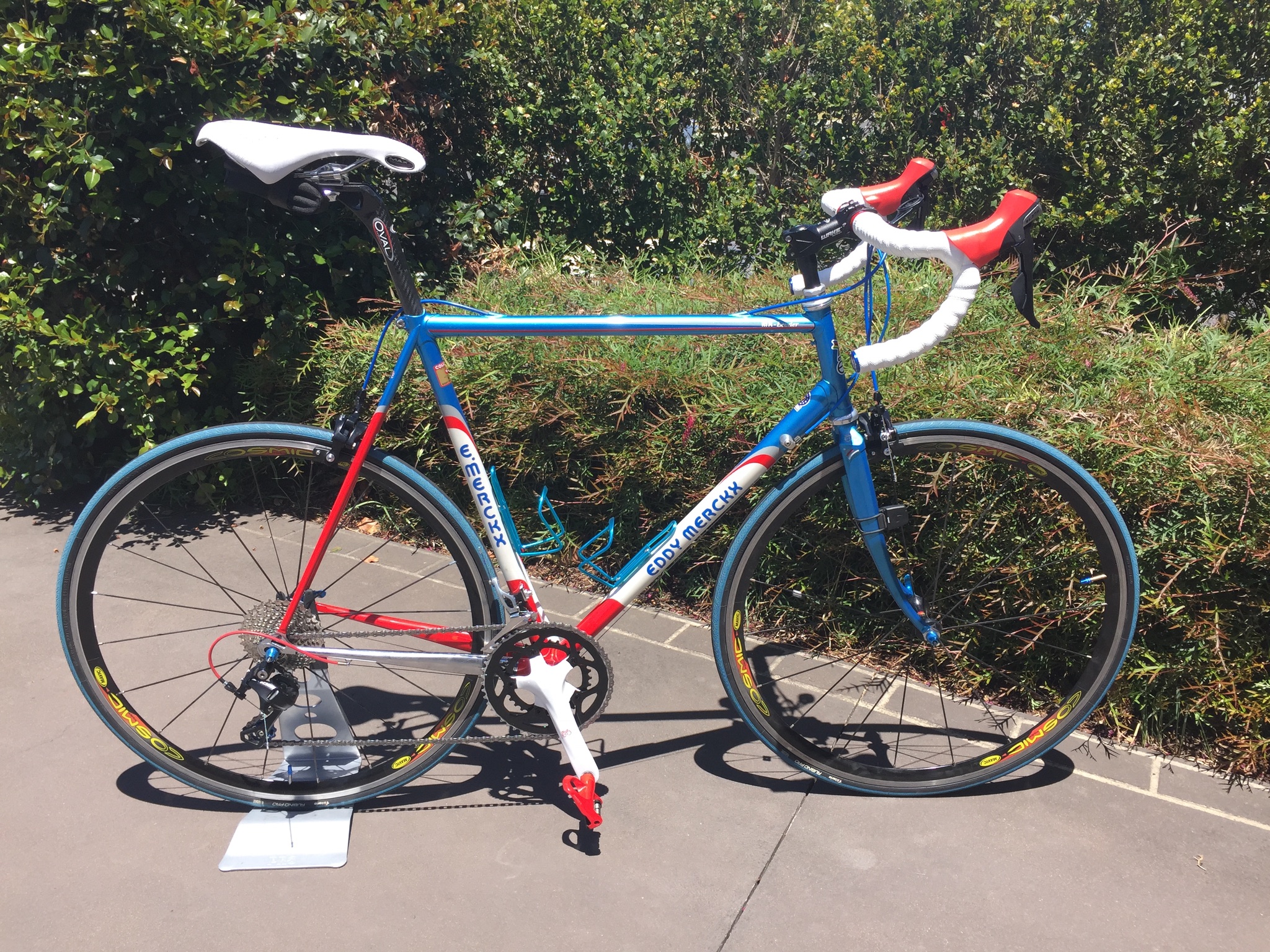 105 5800 11sp groupset, some Mavic Cosmics and an experimental colour on the compact crankset.
Bars converted to 1-1/8", a carbon seatpost and a nice new selle italia saddle. Checkout the layback on the saddle!
The decision is made, it'll be a full Dura-Ace 9000 gruppo and wheels, plus a touch-up on the paint to retain the original. Crankset will be DA 7700 with Ti chain wheels and some colour – the late-model hollowtech cranks are the wrong style for this retro build.
Wheelset being built now, love that DA titanium!
Those red Keos are still sick 😎
* * *
Update March '18
OK, we are good to go.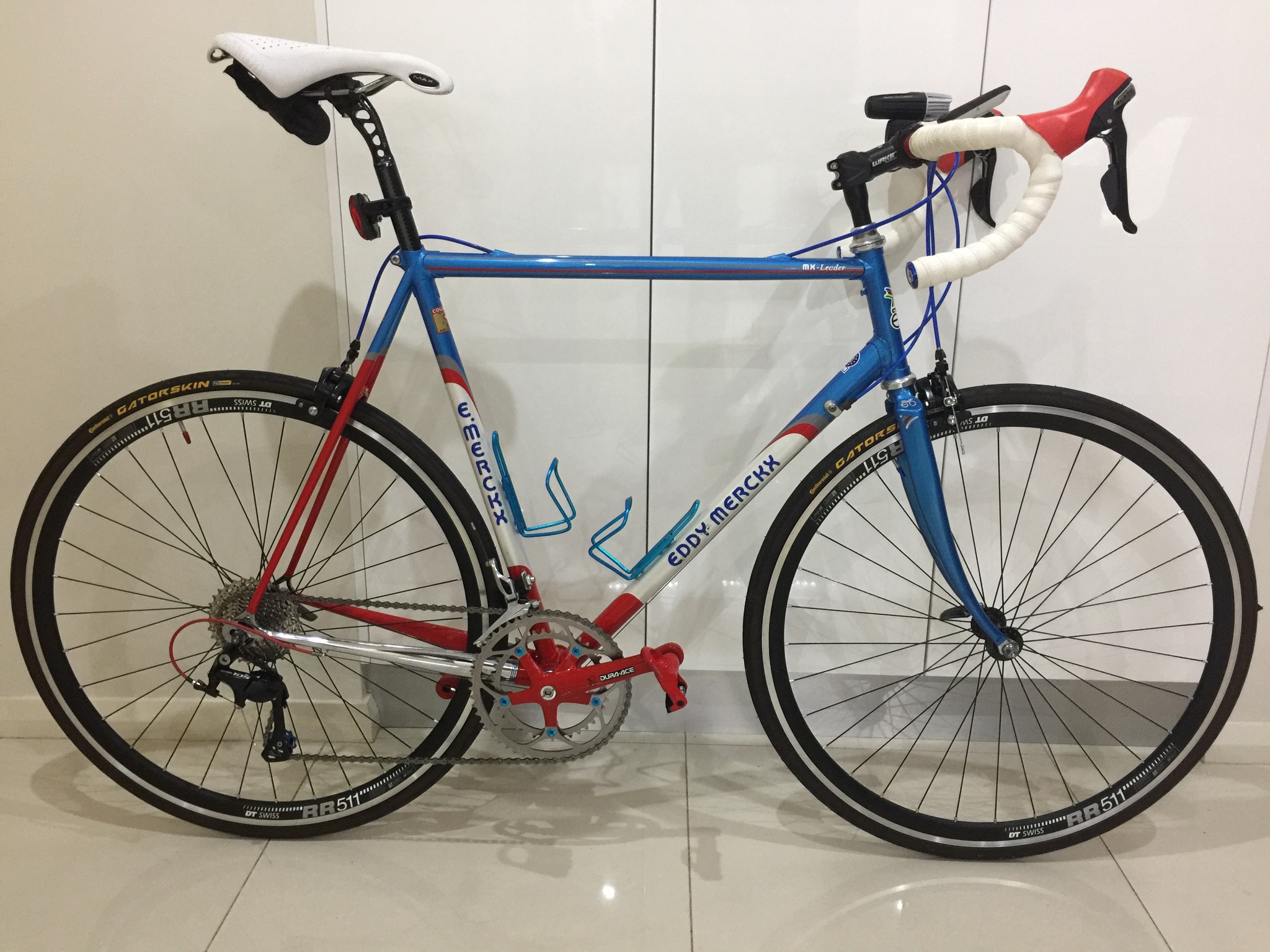 Wheels are done, it now sports a pair of Dura-Ace 9000 hubs, with DT Swiss rims.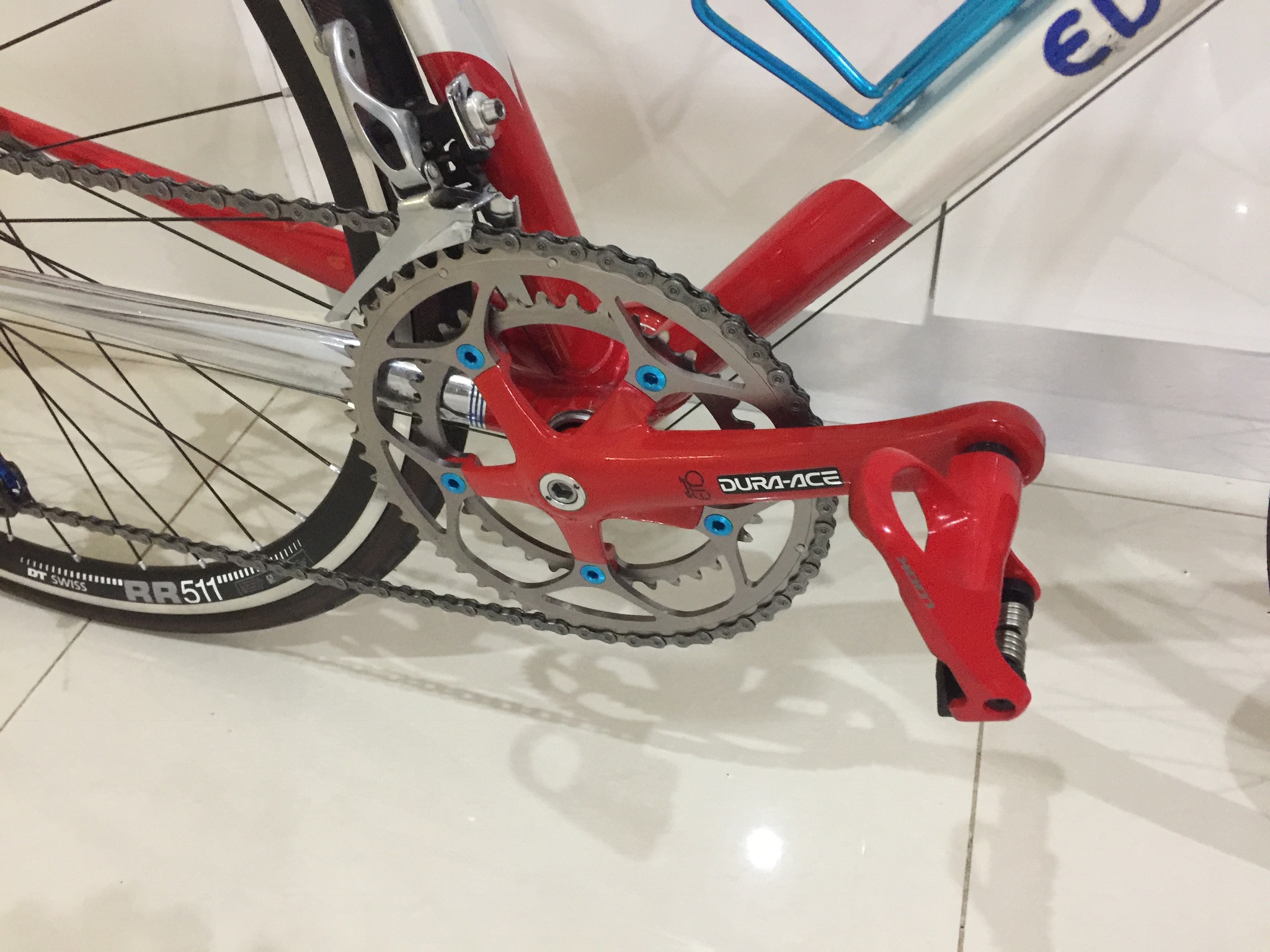 Crankset is updated to a DA-7700 Octalink. Maybe 'updated' isn't the right word, but the late-model crankset looked all wrong on the steel frame, so I looked around for something DA that styled right. A thorough clean-up and a fresh coat of red enamel and voila! It now looks great with a new pair of Shimano SG chainwheels, and some groovy blue bolts.
The largest problem was that the original DA-7700 bottom bracket was cool, but who likes rebuilding BBs every six months? Out it goes. I've put a 105 cartridge BB in it, good for 5 years minimum. Sweet!
That's it for now, I'm going to ride it for few months until it goes away for paint repair. When it comes back…full D-A 9000 gruppo!
* * *
Update August '18
The parts bin is now full of love from Japan. DA9100 11-speed shifters, front and rear mechs and brakes.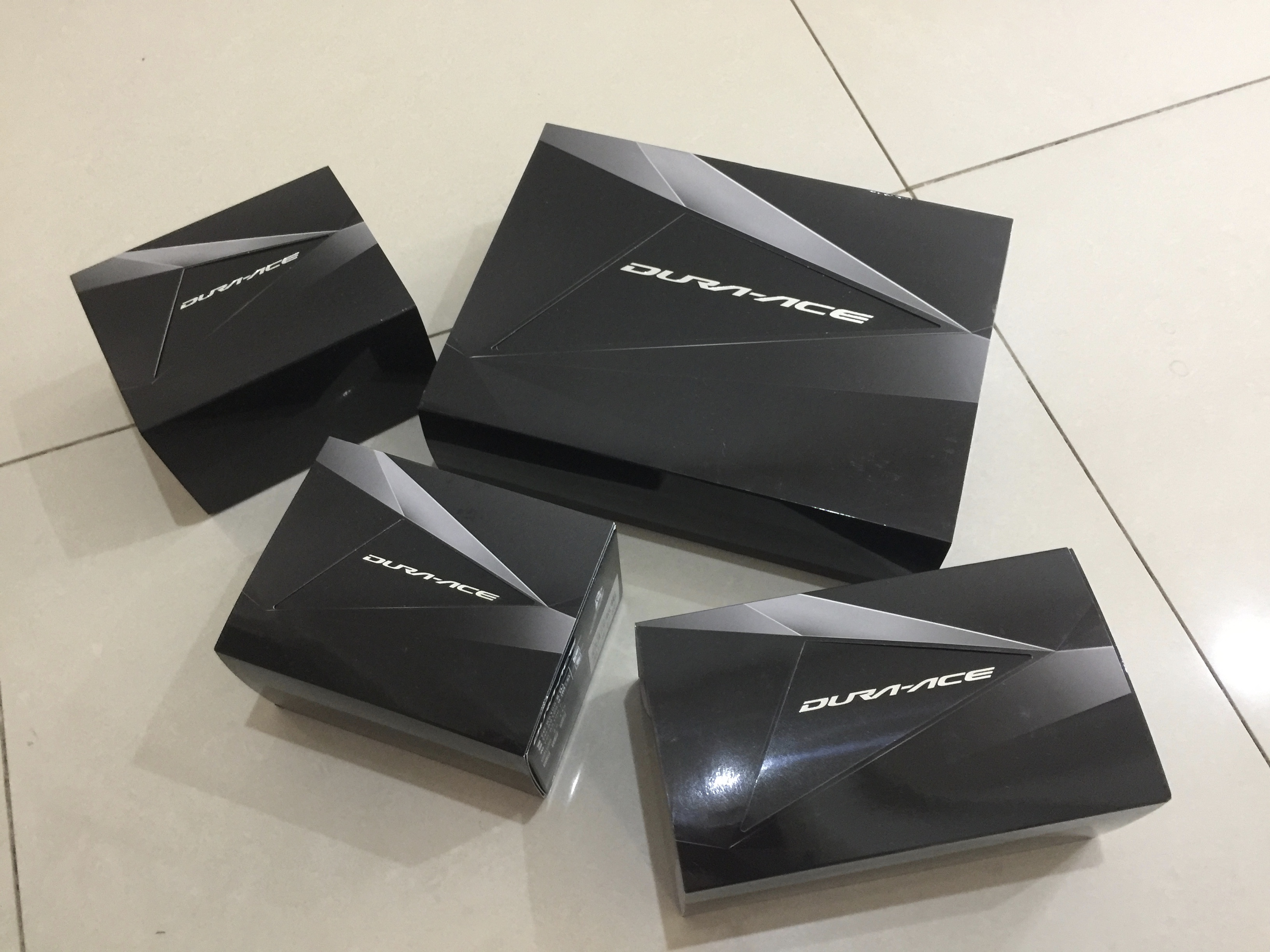 The frame was sent to Rob @ Tempest Bicycles for a 100% inspection for straightness. All good there, phew! Rob replaced the original number hanger and set the rear dropouts to 130mm. He also faced the BB shell, and recut the BB thread.
A set of top tube Motorola team decals was sourced from Cyclomondo, and along with the frame they are now in the hands of Peter Fleming at Star Enamellers. It'll be repaired, not repainted. I want the bike to always carry the original paint, even if it has some small imperfections that cannot be repaired. Patina is great!
I'm planning a 1-1/8″ stem conversion, with a Ritchey 30 degree stem and a set of colour-coded red 31.8mm bars. Of course, the Dura-Ace crankset will be painted to match the red lower frame, with new custom Merckx decals.
Next step – the final build!
Update March '19: This bike is complete, view it here.